Manifest Technology Blog -- Site: | Articles | Galleries | Resources | DVI Tech | About | Site Map |
Articles: | PC Video | Web Media | DVD & CD | Portable Media | Digital Imaging | Wireless Media | Home Media | Tech & Society |
DVD & CD: | DVD & CD Articles | DVD Software Gallery | High-Def DVD Gallery | DVD Authoring Resources |

---
Make Your Own DVDs:
Low-Cost DVD Authoring Tools (8/2000)
by Douglas Dixon
Sonic Solutions DVDit! - VITEC Multimedia DVD Toolbox
Do you have some cool video that you would like to share, or even a production that you've assembled and edited together, with video and audio and music and effects? Or do you just have a collection of video clips that you would like to show to family and friends? But here's the problem: how do you share it? You could transfer it to videotape, but then you lose the ability to skip around and interact with it. You could compress it as a huge video file to a removable drive, or to a CD, but you'll have to cut down the resolution or frame rate to make sure it plays properly on other machines. You could post it on the Web as a streaming video file, but then you would have to reduce it to even lower resolution and play rate.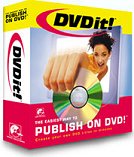 What you really want is something like a DVD: full-resolution full-rate video and audio, plus interactive menus and controls. Actually, if you could author your presentation to DVD, or onto a CD in DVD format, then you could play it on any recent PC by using an inexpensive software DVD player, complete with interactive menus and full-quality video and audio. But production of commercial DVDs is an expensive business, with high-end tools designed for Hollywood movies.
The two DVD authoring tools reviewed here, DVDit! SE from Sonic Solutions and DVD Toolbox from VITEC Multimedia, provide the basic capability to author DVD productions for prices under $500. Interestingly, these tools are almost totally opposites, both in terms of the type of presentation they can be used to create, and in the way that they are used for authoring.
Sonic DVDit! SE ($499 direct) is designed for creating a series of menus, with text and graphics, buttons to navigate between them, and links to video and audio clips. VITEC DVD Toolbox ($399 direct) is designed for assembling a series of video and audio clips to be played one after another, with no menus or navigation. DVDit! is a single application that assembles all the media elements for your production, and then does all the work to convert and compress the elements, generate the DVD format files, and even burn them to a DVD or CD. Toolbox, as its name suggests, is a collection of individual tools used to perform each step in converting and editing your video and audio and generating the DVD files.
Making DVDs: DVD Format
DVD has exploded on the scene in the past year. The Consumer Electronics Association reports that DVD players became the fastest selling product in the history of consumer electronics during 1999. And the Apple iMacs and many PCs now ship with a DVD-ROM drive installed, so you can watch movies like "The Matrix" not only on your TV set with a set-top DVD player, but also on your PC screen playing from the DVD-ROM.
But it's still early in the development of this new format, with a variety of incompatible formats for PC storage (DVD-ROM, DVD-RAM, etc.), and incompatibilities between different types of discs and hardware players. In particular, the only current device that can burn a DVD-R video disc that will play in a set-top DVD player is the Pioneer DVR-S201 DVD-R Recorder, priced at $5400 (list)!
DVD Video discs need to be created in a special "bridge" format, combining the UDF and ISO-9660 file systems to provide access from both set-top players and personal computers. The data is then stored on the disc in DVD format, under a directory called "Video_ts" (Video Title Set). The DVD data is stored in files of type VOB (Video Object), with associated information (.IFO) and backup (.BUP) files describing their contents. The data is actually broken up into multiple VOB files so that each file no larger than 1 GB.
But this Video_ts directory structure, and the VOB format, is also understood by PC DVD player applications, which means that even if you do not have a $5K DVD-R recorder handy, you can still build and share presentations in DVD format which can be shared and played on other computers. In particular, you can burn a DVD presentation to CD-R disc (if it does not get too big to fit), and then play it back on any PC with a CD-ROM drive and a DVD player application. Even better, depending on how you burn the CD and how the player application is designed, the PC can recognize the disc as being in DVD format and automatically start playing the production, just like a real DVD.
Now that's a video disc! The key element with these tools is to convert your video and audio clips to DVD compatible encoded format, with MPEG-2 video and MPEG-1 audio, so that you get full-quality video and audio plus DVD interactivity, and on any PC. Still, capturing full-resolution video and audio clips, editing them together, and especially adding titles, transitions or effects should be done with standard video and audio editing tools before using these applications.
Sonic DVDit! is designed for quickly creating basic DVD presentations with menus and links to video and audio clips. It lets you build your menu design by drag and drop, including menu backgrounds and text, buttons to link between menus, and links to files of video and audio clips. It then does all the work required to turn the input files into DVD format, including encoding video and audio to MPEG format, converting images from standard formats and resizing them to DVD resolution, creating the output DVD format VOB files, and even burning the result to CD or DVD.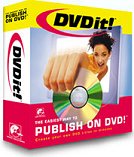 DVDit! comes in three versions. The version reviewed here, DVDit! SE 1.1.1 ($499 direct), supports up to ten menus and converts AVI video files to DVD MPEG-2 format. A more basic LE version is bundled with many editing systems and supports only one menu. Sonic is also planning a PE version for release in June 2000 ($999 suggested retail), with more menus, an integrated timeline to trim and adjust audio / video sync, kiosk and multi-language support, and with Dolby Digital 5.1 audio. DVDit! requires a Pentium II PC running Windows 98 or NT 4.0. Macintosh versions with QuickTime support are due in October.
DVDit! uses the same core DVD formatting engine that Sonic uses in its high-end DVD Creator and DVD Fusion authoring systems. Paul Lefebvre, Director of Marketing Communications at Sonic, says DVDit! has been very popular: "We recently announced that we had reached our 25,000 units sold mark. Currently, DVDit! is bundled with 8 of the 11 major NLE vendors including: Matrox, Sony, Media 100, Avid, Dazzle, DV Studio, Sigma, Margi Systems and NEC."
Sonic DVDit! - Interface
DVDit! is designed around the fundamental concept of the menu page. You design a series of pages, with text and graphics, link them together with buttons, and add links to media clips. The DVDit! interface has three main sections: a large Monitor window on the left to construct menu pages and preview video clips, a Menu list row to the right of the Monitor window with thumbnails of each menu in your presentation, and a Palette window on the right side for viewing your assets and dragging them into the presentation.
The Palette window organizes your media into four categories, accessed by the tabs at the bottom of the window: background still images, menu buttons, text fonts, and media clips. DVDit! ships with some pre-designed elements, and you can add additional items to the list by dragging a collection of files into the Palette window. You can also save a group of Palette items as a Theme, which lets you conveniently save and load groups of elements for different types of presentations. Sonic also sells additional Theme packages for business and personal productions.
To create a DVD presentation, just start building the first menu. Click the Background tab in the Palette to display thumbnails of background images, then drag one to the Menu list, and it becomes the background image for that menu. As you click on each menu thumbnail, the menu screen is displayed in the large Monitor window for you to edit.
Next, design the layout of your menus by using buttons and text. Click the Button tab to display the pre-defined button designs, and drag the buttons into position in the Monitor window. Click on the Font tab to select a text font, and drag over to the Monitor window to add text to a button or the menu design. You then can use the Effects menu to change the text style, and to adjust the drop shadow for elements. You can also reposition and resize elements.
Finally, add navigation links, both between menus and to media clips. To link a button to another menu, just drag from the menu thumbnail to the button. To add media clips, select the Media tab, click on a clip (video, audio, or still image), and drag it onto the menu design in the Monitor window. DVDit! automatically creates a thumbnail image to use as a button for the clip. DVDit! also automatically creates highlight images for visual feedback when each button is selected.
Sonic DVDit! - Creating Your Presentation
As you edit your presentation, you can preview it at any time by clicking the Preview tab. This displays a Remote Control panel so you can navigate through your DVD to check the overall design and links. Also to help in checking links, DVDit! provides an option to display the links as text.
You then build your presentation in DVD format by selecting Build / Make DVD. You can create the DVD volume on your hard disk, or record it directly to a CD-R or DVD-R disc. If necessary, DVDit! will compress your input video clips to MPEG-1 or -2 format. And that's it: you now have your DVD production ready to play.
DVDit! is a handy tool for quickly creating simple DVD presentations with images, menus, and video audio clips. It's not a full-fledged authoring tool, and this version can be clumsy to use. Version 1.1.2, due in May 2000, will fix some rough edges in the interface and add MPEG-1 support. Version 1.2, due in June, will fill in some other incomplete elements, including use of the slider to skip through a clip, more complete support for selecting a group of elements, and the ability to copy and paste text attributes for a consistent design. It will also add new features such as user selection of chapter points, QuickTime input, and Internet streaming support.
DVD Toolbox from VITEC Multimedia takes a very different and modular approach to DVD authoring. Toolbox includes a complete set of six software tools that support each step of the DVD authoring process: encoding and editing a collection of video and audio clips, combining them into a DVD production, and then playing and examining the output DVD data files.
With Toolbox, the resulting DVD simply consists of a collection of clips (video or a series of stills, optionally with audio), with one chapter for each clip. There are no additional menus or navigational elements, although you can use the built-in DVD controls to skip between chapters and play individual clips.
"The added value of VITEC's DVD Toolbox is in its DVD-Video editing capabilities," says Lionel Zajde, worldwide marketing vice president for VITEC Multimedia. "No other DVD Encoding/Authoring product on the market can claim to be able to re-edit the content of an already published DVD-Video without having to decode the content through an analog process. One can very easily take their own published DVD-Video, convert the content back to MPEG-2, edit the content, add new chapters or video segments, remove sequences, edit certain scenes and re-generate a brand new compliant DVD-Video with DVDMaker without affecting the quality of the video itself !"
Toolbox version 1.0, reviewed here, was released in June 1999. It is available directly from VITEC Multimedia for $399 (direct). A reduced suite of the MPEG tools is available as MPEG Toolbox 2 for $99. The full version of the MPEG editor, Video Clip MPEG-2 Pro is available for $1250. The minimum configuration for Toolbox is a PC Pentium II, running Windows 95/98 or NT 4.0.
Toolbox - MPEG Maker Encoding
The first step in DVD authoring with Toolbox is MPEG Maker-2, a software encoder to compress video, audio, and sequences of still images into DVD-compliant MPEG clips.
The input video clips are in Windows AVI format. For best results, the video clips should be at the target DVD resolutions of 720/704x480 (NTSC) or 720/704x576 (PAL), or else the video will need to be resized. Similarly, unless audio clips are provided at the target bit rate (i.e., 48 KHz), then they will need to be resampled to meet the DVD specification.
The MPEG Maker interface displays a main window frame, containing a Source window on the left for the input video clip and an area on the right for compression parameters. To specify an input clip, open an AVI video file or drag a file into the Source window. You can then use the VCR-like play controls to step through the file, or click the "I" button to display information about the file. You can also use the "Mark In" and "Mark Out" controls to select only a portion of the file to be converted. There's also a button to grab the current video frame as a still image BMP file. MPEG Maker also can open and display MPEG-1 and MPEG-2 elementary and program files (.MPG, .M1A/V, .M2A/V, .M2P), and audio files (WAV).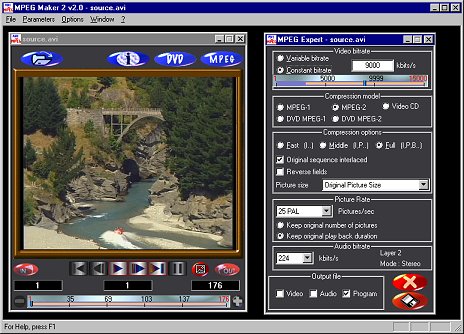 For the fastest path to creating a DVD, if your input AVI file contains both video and audio streams ready to use as is, is to simply click the DVD Direct button. This will set all the appropriate compression parameters for DVD-compliant video and audio and start the processing. For more precise control, or to create MPEG-2 video for other than DVD use, press the MPEG Expert button. This displays a dialog with video and audio compression options, including compression type (MPEG-1 or MPEG-2), bitrate, constant or variable encoding, and picture size and rate. MPEG Maker also provides options to specify if the input was captured from an interlaced (TV video) source.
To add titles or still images to your production, MPEG Maker also can convert a sequence of still images into a MPEG video stream. You specify the sequence with a simple text file containing the image file names (BMP) and the number of frames for which each file is to be displayed. MPEG Maker then converts this slide show into a video sequence that can be authored onto your DVD.
The output from MPEG Maker is elementary video and audio bitstreams (i.e., .M2V and .M2A) or multiplexed program streams with both video and audio (.M2P). These streams can then be combined and trimmed with the Video Clip MPEG-2 SE (if needed), and then assembled into the final DVD production with the DVDMaker authoring tool.
Toolbox - DVDMaker Authoring
Once you have encoded your video and audio clips with MPEG Maker, you can author them to DVD format with DVDMaker. The DVDMaker interface consists of a window with two sections, an area to select the next input clip on the left, and the assembled list of clips on the right. You assemble the material by simply selecting a series of video files and adding them to the list of the files. Each video clip will then become an individual chapter on the DVD. You can also add sound to a chapter by selecting an audio file to multiplex with a video clip. DVDMaker also provides controls to rearrange the order of the clips, and to remove files from the list. You can save the list as a project to reuse or edit later.
Now you are ready to create the DVD format files. Be sure to select the "Test files for compatibility" option to have DVDMaker verify that the formats of the video and audio clips are DVD compliant and compatible with each other. You also can have the sequence automatically loop after it plays; otherwise it will play through each chapter and then stop. Now press "Finish to DVD Files" and DVDMaker will process the input files and create a Video_ts directory with the DVD format VOB and associated files. DVDMaker can also build a DVD "Image" file in UDF format that can be used by some DVD burning tools.
The resulting Video_ts directory and VOB files can then be played from hard disk with a PC DVD software player, copied to other media, and recorded to CD or various DVD formats. As long as the data or disc can be read by a PC, the DVD data can be played by a PC DVD software player.
Toolbox - Video Clip MPEG-2 SE Editor
The easiest path to creating DVD format data with Toolbox is to encode a collection of video and audio data with MPEG Maker and build the DVD format VOB data with DVDMaker. You should edit the clips and add effects before using the Toolbox applications, but it's still useful to be able to fine-tune the final clips even after they have been compressed into MPEG format.
For this reason, VITEC includes a limited version of its MPEG editor with Toolbox. Video Clip MPEG-2 SE is particularly useful for trimming the beginning and end of clips, rearranging material in a clip, and for combining several files into one clip, and one chapter, on the DVD. The Video Clip interface is similar to MPEG Maker, with each input clip displayed in a Source window on the left, and the assembled output clip displayed in a Project window on the right. Each clip is displayed in the same kind of player window used by MPEG Maker, with play controls, slider, and frame or time counters.
To add clips simply use copy and paste: open the Source, select a portion of the clip (if desired), press Copy, and then move to the Project window and press Paste. Multiple Source windows can be open at once, so you can easily combine material from different inputs. Just make sure they all have the same MPEG properties, including resolution, bitrate, and audio sampling rates. When you are done, press the Sequence button and specify the output format(s) that you need, including MPEG-2 video and MPEG audio for DVD authoring.
This SE version of Video Clip MPEG-2 does have some limitations compared to the full professional version. In particular, the professional version permits editing the compressed stream with frame accuracy, instead of having to adjust the edit points to match the structure of the compression algorithm (around 12 to 15 frames on the In point and around 3 frames for the out point). The professional version also offers titling, Video CD and AC3 audio streams editing, and additional MPEG utilities.
Toolbox - MPEG Remix and VOBtoMPEG
Once you have assembled a collection of video and audio clips and authored them into DVD format, Toolbox also provides a couple tools for re-editing and extracting the compressed data.
MPEG Remix is a simple tool for adding or replacing a sound track with a video clip. You just select an audio file (WAV) and the MPEG video stream that you want to combine it with. Remix will resample the audio rate if necessary, and then convert it to MPEG format. Remix also will cut, adjust, or repeat the audio as desired to match the length of the video clip.
VOBtoMPEG is used to extract the elementary MPEG video and audio streams from a DVD formatted VOB structure. Just open the standard DVD Video_ts directory and select the VOB file. VOBtoMPEG will process the VOB data and create the individual elementary or program streams for each chapter. Note that VOBtoMPEG is not intended for reusing copyrighted material, and does not support extracting material from commercial discs that use CSS encryption.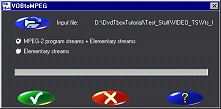 Toolbox - Software Cinemaster DVD Player
To view your DVD format video, Toolbox includes the Software Cinemaster software DVD player from Ravisent. CineMaster can play DVD format files from hard disk, commercial DVDs from a DVD-ROM drive, and MPEG-1 and -2 files. You may want to update the version of Cinemaster included with Toolbox: Cinemaster 99 version 2.0 only plays DVD VOB files from hard disk if the Video_ts directory is at the root of the disk, and then can only play from DVD-ROM if the directory is then removed.
Conclusion
These tools have lots of applications for lots of users, says Zajde of VITEC Multimedia. "Anybody who has a PC, video footage (analog and/or digital), a video capture device and wants to save his/her video onto a permanent, reliable, universal, standardized format such as DVD-Video files ! There are currently millions of video amateurs and prosumers who fall in that category today that want to switch from AVI based video storage to MPEG-2/DVD-Video based storage."
It's still early in the development of the DVD format and associated tools. But these tools provide a relatively inexpensive way to get started with creating your own DVD productions, albeit with very different approaches.
Use Sonic DVDit! to create simple productions using menus and links, with simple drag and drop editing and no fussing about the DVD processing steps. Use VITEC DVD Toolbox for generating productions from a list of media clips, and for more control over each step in the processing. DVDit! is the fastest path from a simple presentation to DVD format, while Toolbox provides a collection of tools for editing video and audio clips.
Meanwhile, actually authoring your own DVD-R discs to play on set-top DVD players (like burning audio CDs to play in a boombox) is still problematical. The only available DVD-R recorder costs over $5K, and burning DVDs that play in set-top boxes is still plagued with incompatibilities. Check with the tool vendors for the current status of this technology to fit your needs.
Meanwhile, you can use DVDit! and Toolbox to get started with DVD production, and to create DVD volumes that can be played on PCs and from CDs. Depending on your needs, you may well find it useful to have both of these tools.
References
Sonic Solutions - Sonic DVDit!
http://www.sonic.com
http://www.dvdit.com
Vitec Multimedia - DVD Toolbox
http://www.vitecmm.com