Manifest Technology Blog -- Site: | Articles | Galleries | Resources | DVI Tech | About | Site Map |
Articles: | PC Video | Web Media | DVD & CD | Portable Media | Digital Imaging | Wireless Media | Home Media | Tech & Society |
DVD & CD: | DVD & CD Articles | DVD Software Gallery | High-Def DVD Gallery | DVD Authoring Resources |

---
DVD Demystified, Third Edition (8/2006)
by Douglas Dixon
Romance! Excitement! Intrigue! Gory technical details! Jim Taylor's DVD Demystified has it all. Yes, even romance -- After all, if you love DVD, you have to have this book.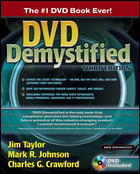 Order from Amazon.com
DVD Demystified has been the go-to source for all things DVD since the first edition in 1998, and the second edition in 2000 has been the definitive reference for the flowering of DVD through the first half of this decade. But now the industry is changing, with the democratization of high-def video and the advent of next-generation blue-laser DVD. And Jim Taylor has answered the need with DVD Demystified, Third Edition (www.dvddemystified.com).
Taylor is Chief of DVD Technology and General Manager of the Advanced Technology Group at Sonic Solutions (www.sonic.com), right at the heart of new developments in DVD. Sonic is the premiere company in DVD authoring, from consumer disc burning (Roxio Easy Media Creator and MyDVD) to professional authoring (DVDit), to high-end Hollywood production (Scenarist).
And with the third edition Taylor has added two co-authors, DVD developer Mark Johnson and video director Chuck Crawford, and expanded the coverage of DVD to include HD DVD, Blu-ray Disc (BD), UMD for the Sony PSP, and related high-definition video and audio formats.
If you're just learning about DVD, DVD Demystified starts out with a nice background history of video and audio formats in The World Before DVD, and then tells the exciting story of the DVD's gestation, birth, and flowering as DVD Arrives. It then paints the big picture of DVD Features and interactivity.
Later chapters also include a nice reference to understanding set-top DVD Players with all their features and connections, followed by a discussion of What's Wrong with DVD.
Taylor also provides guidance on how to use DVD, including chapters on New Interaction Paradigms (improved user interfaces); DVD in Home, Business, and Education; and DVD on Computers.
As you get more involved with DVD authoring, there's also an extensive chapter on Production Essentials for planning DVD designs, followed by a concluding chapter on DVD and Beyond.
Then there's the technical meat that makes up the core of the book -- including a Technology Primer on DVD, Video, and Audio, plus exhaustive individual chapters on topics including DVD Features, Content Protection, Red Laser Physical Disc Formats (physical structure plus writable formats), Blue Laser Physical Formats, and Application Details (logical formats including DVD-Video, DVD-Audio, SACD, UMD, HD DVD and Blu-ray -- plus recordable versions).
Plus, there's three appendices, with Reference Data (with summary specs for all the different formats), DVD Standards (seven pages of physical and logical formats), and additional References and Information Sources.
As an additional bonus, DVD Demystified includes a Demo DVD that demonstrates "almost every feature of the DVD-Video format" (www.dvddemystified.com/disc.html), and also includes computer-accessible extras including WebDVD access.
The disc has sections with multi-angle video, multi-channel audio, and subtitles; video compression samples and test patterns; audio encoding formats; and DVD feature tests such as aspect ratio, inverse telecine, and region codes. The DVD ROM portion also adds tools including bit budget spreadsheets and time/capacity calculators.
The disc is in NTSC video format and not region coded, and therefore should play in almost any player worldwide. Taylor advises that "The DVD Demystified disc was carefully authored in full compliance of the DVD-Video specification with few considerations for player deficiencies. Therefore, it will reveal flaws in many DVD players."
The WebDVD section of the disc demonstrates how to combine DVD playback with Web access (www.dvddemystified.com/webdvd). Documentation of DVD scripting with MSWebDVD is available in the MSDN Library.
While you really need to get this book if you are serious about DVD, Jim Taylor also maintains an online DVD FAQ (Frequently Asked Questions) document on his DVD Demystified website (www.dvddemystified.com/dvdfaq.html). It's now up to some 440K in size and 70,000 words long, with sections on general DVD technology, relationships to other products and technology, technical details, DVD on computers, and DVD creation.
Taylor also posts the Glossary from his book online (www.dvddemystified.com/glossary.html), with definitions of key terms in DVD, video, and audio.
Order from Amazon.com


Jim Taylor's DVD FAQ
www.dvddemystified.com/dvdfaq.html
DVD Demystified -- Jim Taylor's site
www.dvddemystified.com
DVD Glossary -- www.dvddemystified.com/glossary.html
Demo Disc -- www.dvddemystified.com/disc.html
WebDVD -- www.dvddemystified.com/webdvd
DVD Demystified -- McGraw-Hill
books.mcgraw-hill.com/getbook.php?isbn=0071423966