Manifest Technology Blog -- Site: | Articles | Galleries | Resources | DVI Tech | About | Site Map |
Articles: | PC Video | Web Media | DVD & CD | Portable Media | Digital Imaging | Wireless Media | Home Media | Tech & Society |
DVD & CD: | DVD & CD Articles | DVD Software Gallery | High-Def DVD Gallery | DVD Authoring Resources |

---
Customize your DVDs with Sonic DVDit 5 (11/2004)
by Douglas Dixon
Getting Started - Projects
Editing - Movies & Timelines
Authoring - Menus & Buttons
Authoring - Navigation Links
Finishing and Burning
DVD It Indeed!
References
In the past couple of years the DVD authoring tools market has developed two separate tiers: entry-level / personal tools at prices around $50 - $100, and corporate / professional tools at around $500 and up (ignoring higher-end professional tools from multi-thousands to $10K's). The personal tools provide template-driven DVD creation, from video capture to automated menu layout and links, but this ease of casual use also limits your ability to customize the DVD design. The creative professional tools expose more of the capabilities of the DVD specification and provide more control over your DVD design, with multiple audio tracks, subtitles, custom menus and buttons, and navigational links to re-use assets.

However, these two product tiers have an obvious gap between $100 and $500, between full-automated DVD generation and more manual design and layout. Two new Windows products, Sonic DVDit 5 and Ulead DVD Workshop Express, have addressed this niche by retaining the friendly drag-and-drop interface of the personal tools while adding more flexibility to customize your DVD designs.
This article takes a look at Sonic's DVDit 5 (www.dvdit.com), introduced in June 2004. Priced at $299 (list), DVDit sits squarely between Sonic's personal MyDVD product and the more professional ReelDVD and DVD Producer Pro. Version 5 is a major upgrade, with a significantly revamped interface, the addition of a timeline for laying out movies and chapters, and new menu design and navigation tools.
Meanwhile, Ulead's DVD Workshop Express (www.ulead.com/dws), introduced in July 2004 also for $299, is a stripped-down version of its DVD Workshop application, which provides professional authoring capabilities with a bright and accessible interface, and is priced at $495 (retail), under competitors such as Adobe Encore and Sonic ReelDVD. With Express, Ulead removed some of the higher-end professional features, especially authoring discs for professional manufacturing, while still retaining useful features such as two audio and subtitle tracks.
DVDit 5 presents a dramatic new interface that combines the best of both worlds: a traditional Windows menu bar that provides access to lots of detailed options, plus a task-oriented interface to step through the authoring process with a drag-and-drop approach. DVDit guides you with four buttons at the top of the screen: start a Project, Edit your clips in a timeline, Author menus and link buttons to clips, and then Finish the production to disc.
Use the first Projects tab to open and manage your DVDit projects. You can open an existing project from the list at the top of the window, or create a new project from the section at the bottom. DVDit also provides convenient built-in project management options, including deleting existing projects directly from the application, and creating a new version of an existing project, using it as a template design. You can create DVDs in both TV standards, NTSC and PAL/SECAM.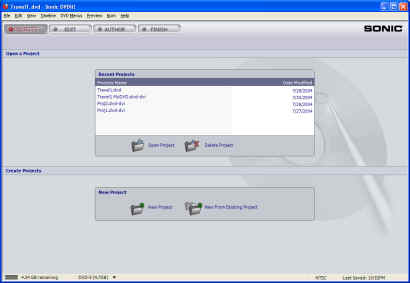 Projects tab
In addition, DVDit can open projects created in MyDVD versions 4.x and 5.x, and provide access to all of their menus, buttons, text, and original assets. This means you can use the automated tools in MyDVD to quickly transfer a tape or a collection of clips to disc, and then import it into DVDit to enhance the template-based design. For example, you can update the button designs with custom highlights, and add more advanced navigation with timed menus or alternate paths through the content.
However, this version of DVDit cannot open discs created using Sonic's OpenDVD format that allows a DVD to be re-edited without requiring you to keep around the old project file. As a work-around, you could use MyDVD to open your old OpenDVD discs and then re-save them as a MyDVD project. DVDit can import content (but not projects) from DVD+VR discs recorded on set-top DVD players, so you can select movies from a VR disc to import into your project.
Once you open a project, DVDit switches to the Edit tab to create the movies -- the playable elements -- that you will then link from your menus. (Actually, you can click between the Edit and Author buttons at any time to alternate between working on your movie timelines and menus, but you obviously need to create the movies before you can link to them.)
The first step in the Edit tab is to import video and audio files into the Media Palette area on the left side, which displays thumbnails (but not video previews) of the imported clips. DVDit can import common video formats including AVI, QuickTime, Windows Media, and MPEG (-1,2,4) video, and Wave and Dolby Digital audio. To then use a clip on your disc, drag it into the adjacent Movie List column, which creates a Timeline for the clip, as displayed along the bottom of the window. The contents of the Timeline also are displayed in the Preview area at the top right.
Use the play controls below the Preview monitor to play through the clip, or to step frame by frame. Or drag the playhead in the Preview or Timeline areas to shuttle through the clip. DVDit provides very snappy response and precise frame access, with DV-AVI and even MPEG files. You also can trim the clip in the Preview monitor, by dragging the In and Out Point icons, or by entering the exact timecode.
Edit tab: Clips and chapters
Then add chapter points in your clips so viewers of your disc can skip more easily within the content, and so you can create links to these points from the menus. Just position the Timeline playhead at the desired frame, and click the Add Chapter button. The DVDit interface is very clean, with zoom controls, easily-accessed icons, and helpful pop-up tooltip displays. It displays the frame time, so you can be as precise as you need in positioning the chapters. It's also easy to move and delete chapters, with convenience features like being able to provide chapter names and enter the timecode directly.
For the audio track, DVDit provides volume and fade in/out controls, and the ability to offset the audio relative to the video to adjust the synchronization. You can set the DVD language option, and also select the bilingual / SAP (second audio program) tracks. The current version of DVDit only supports English and Japanese as DVD language options, and each movie can have only one audio track. DVDit also does not support subtitles.
Next, click the Author button to move on to create your menus and link together the menus and timelines. Using a design similar to the Edit window, the Author tab again provides a straightforward drag and drop interface, but with access to some more sophisticated options.
The Author tab includes the Media Palette column, with tabs listing graphical elements used to create menus (i.e., backgrounds and buttons), the adjacent Menus/Titles List column for accessing linkable elements in your project, the Preview area at the top right for editing the menu, and an Attributes area at the bottom right to set a wide range of properties for the selected object.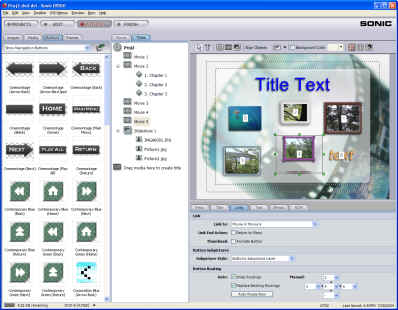 Author tab: Menus and buttons
The Media Palette column includes tabs for Images (backgrounds), Media (video and audio), Buttons, and Frames. To create a new menu, drag a background graphic from the Images tab into the Menus List. DVDit then displays it in the Preview area, ready for you to add buttons, text, and links. Or just create a new blank menu with a background color.
To start with graphics objects, click the Buttons tab to view the pre-designed button graphics, including images, graphics objects, and navigation designs (i.e., Back, Next, Home). You also can import your own graphics and position and resize them on the menu. To add text, click the Text tool and just type. Then use the Text Properties tab to adjust the size and style.
To create buttons that link to video clips, drag the clip from the Media Palette, or from the Titles List, or just right-click and select a file from hard disk; you don't need to import the file and create a timeline first -- DVDit will do all that for you, and then creates a button linked to the movie, and with a thumbnail image of the movie. You can create links to menus by dragging in the same way, which then display a thumbnail of the target menu. If the linked clip starts with a fade, so the thumbnail just shows a black screen, you can select another, more representative, frame as the button image used in the thumbnail.
DVDit also provides handy tools to enhance your menu designs. You can align and center elements on the menu, reorder them front to back, resize to the same width and/or height, enable the grid overlay and snapping, and use the Effects Properties to add drop shadows and control opacity (to make objects translucent against the background). You also can copy and paste attributes between objects.
To jazz up your buttons, click the Frames tab in the Media Palette and drag a frame design to a button. The Frame design includes the graphical look, including transparent elements such as rounded edges, and the overlay graphics for button highlights.
You can use the highlight overlay associated with the button graphic (called the subpicture layer in DVD lingo), or have DVDit generate the overlay as an outlined or filled translucent overlay, drawn as a plain rectangle or fitting the button object shape.
Or you can create your own button designs in Adobe Photoshop, as layered files. Button files have two layers: the full-color button image and a single-color highlight overlay. Both are transparent layers, so the button and overlay can be arbitrary shapes, and button can be translucent. Frame files have three layers: the button image, the highlight overlay, and a thumbnail layer with a single-color shape that defines a region that will be replaced by a thumbnail image of the element that the button is linked to.
The final detail is the colors used for button highlights. Since the DVD specification provides a limited overlay plane in which to define the graphical shape, the colors are actually specified using a separate palette. DVDit allows you to specify the highlight color and opacity used for all the buttons on each menu. This allows you to create invisible buttons used for "Easter Eggs" by setting the opacity to zero percent (fully transparent).
These text and graphics can be decorative elements on your menu, or can be made into buttons by creating links from them. Making links is as easy as dragging an element onto a menu button, or selecting the target in the drop-down menu from the right-click menu or under the Links Properties tab. You can link from a button to a clip (timeline) or a menu, or to a specific chapter in a timeline or a specific button on a menu (so that the button is pre-selected, instead of the default). DVDit provides a handy (and uncommon) optional tree view in the Menus/Titles List to better view your DVD's contents and access elements to drag and drop onto your menus.
Author tab: Navigation
In this way, you can create different menu navigation structures, including a list of menus (previous / next) and hierarchical nested menus (down / up). You can also specify any menu or movie as the First Play, to begin playback of your DVD. DVDit also includes an Add Sub-Menu shortcut borrowed from MyDVD to create a nested menu, complete with a linked button.
The new Slideshow creator is also inherited wholesale from MyDVD, as a wizard to import and arrange a series of still images, with a timed background audio track, and even transitions between slides. DVDit also provides the option to include the original image files on the final DVD, so the viewer can watch the slideshow on a DVD player and also access the full JPEG or other image files on a computer.
For more control over how viewers navigate your discs, both timelines and menus have End Action links to specify what happens when a movie finishes playing or when a timed menu times out. They can just stop and wait, loop continuously, or continue on to another timeline or menu. When you link from a button to a timeline, you also can override the timeline's end action and have it return back to the menu when it finishes playing. In this way, you can re-use material on your disc by linking it in different ways from multiple menus. For example, you can link a group of timelines in sequence for a "play all" option, or link to individual movies using the override to play specific clips.
DVDit provides timed and motion menus. You can create a motion menu with a video clip as the background, or have a still menu with a background audio clip, or just have a timed still menu. You also can add video thumbnail buttons to the menu, and individually select whether they are animated to show a short clip of the linked clip. You then can set the play duration of the menu (and its thumbnail clips, and background video / audio). By adjusting the duration and end action you can have the menus loop continuously awaiting a user button press, or create a self-playing DVD demonstration that automatically plays through its contents.
For more control over viewer interactions with your menus (and to permit access to secret "Easter Egg" buttons), DVDit also allows you to override the default button routing to explicitly specify the order in which the menu buttons are highlighted as the user presses the Up / Down / Left / Right buttons on the remote control.
Finally, click the last Finish button to preview and burn your project. Use the Preview Project options and DVD playback controls to preview your work in progress at any time, including a nice feature to preview from the current edit point, so you can check out a specific timeline or subset of the project even if all the elements are not yet linked together. DVDit does not preview motion menus in real time unless you explicitly render them.
Use the Finish Disc options to burn the project to disc, or to build a copy to hard disk as DVD folders (to view with DVD player software), or as a disc image file (you also can burn to DVD from either format on hard disk). DVDit performs some sanity checks on your project, and warns if you have problems such as unused orphaned menus that do not link to anything. DVDit does support the new DVD+R Double Layer format, to write up to 8.5 GB to a single disc.
Before the build, DVDit also needs to transcode any video (and audio) clips not in DVD-ready format to MPEG-2. DVDit provides two different controls for transcoding: an Effort Control slider to balance faster transcoding vs. better quality, and a Transcode dialog to specify basic compression options such as bit-rate, constant or variable-rate video, and audio format (stereo Dolby Digital AC-3 or PCM).
DVDit also includes an Express Labeler utility, but also warns you that affixing paper labels to DVDs is probably not a good idea (due to the possibility of upsetting the tighter tolerances compared to CD).
Sonic's new DVDit 5 is a very usable tool for making more customized DVDs without undue strain or complexity. The interface is friendly, with accessible and readable controls for quick and easy drag-and-drop, push-button editing. Plus, the menus and Properties area provide relatively sophisticated options for custom button and navigation design. Sonic should have a trial version posed on its website for you to check out.
While DVDit is currently limited to only one audio track, no subtitles, and single-color button highlights, these are not big issues for professional / corporate users who want a relatively easy way to make more custom DVDs.
Since DVDit does not do capture, it is particularly interesting as a companion to MyDVD, in that you can use MyDVD to create quick transfers to disc for viewing, and then come back later to customize the projects in DVDit. And this will be even easier in a future version that supports Sonic's OpenDVD format for re-editing disc contents.
All in all, DVDit is nicely designed to make creating somewhat customized DVDs quite comfortable, with pre-designed elements, drag-and drop creation of thumbnail buttons, and even built-in highlight overlays. Plus, there's enough depth to do more, in menu design through imported Photoshop elements, and in navigation though specifying links and overlays.
Sonic Solutions
www.sonic.com
Sonic - DVDit
www.dvdit.com
Ulead - DVD Workshop
www.ulead.com/dws