Manifest Technology Blog -- Site: | Articles | Galleries | Resources | DVI Tech | About | Site Map |
Articles: | PC Video | Web Media | DVD & CD | Portable Media | Digital Imaging | Wireless Media | Home Media | Tech & Society |
DVD & CD: | DVD & CD Articles | DVD Software Gallery | High-Def DVD Gallery | DVD Authoring Resources |

---
High-Def DVD: Blu-ray and HD DVD (4/2006)
by Douglas Dixon
The Formats
Announced High-Def Movies
Set-top Players
PC Drives
Recordable Discs
Authoring Software
High-Def Hopes
References
They're finally here ... well, almost. The hype and "format war" around high-definition DVD players has been going on for years, but the first products have been announced, and should be available in spring 2006. The idea is good: a new format, based on the same disc size as current DVD and CD, but capable of holding more data -- enough to deliver full-length movies in full high-definition quality. After all, it would be nice to have some HD content that we can watch on all these beautiful widescreen displays that are so popular these days, and finally have a way to record HD television broadcasts so we can watch them later.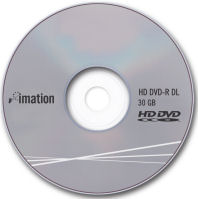 Even better, as with current DVDs, the high-def DVD formats also can be played and recorded on personal computers. Finally, videographers will have a way to deliver and share HD productions that they already are shooting and editing with the new HD camcorders. And just for data transfer and storage, the new formats offer 3 to 5 times more capacity on a disc. Very interesting!
However, the promise of these formats is complicated by several factors, including the format war. The two formats, Blu-ray Disc (BD) and HD DVD, have much in common: they are both based on the DVD form factor, but use a blue laser that can read smaller pits for higher capacity (instead of red laser for DVD and CD). Both offer high-resolution video and audio, going beyond the MPEG-2 video compression used on DVD to support the newer and more efficient MPEG-4 / H.264 and Windows Media Video (WMV) formats. And both include provision for more advanced interactivity, including dynamic menus and overlays on top of the playing video, picture-in-picture commentary, interactive games and activities, and networked access to additional related content and for sharing around the home.
So, what's the difference?
- HD DVD was designed as an incremental improvement beyond DVD, with 15 GB of capacity per layer, 30 GB for a dual-layer disc, and then 45 GB for triple-layer. It is championed by Toshiba and NEC, and was officially adopted by the 240-member DVD Forum consortium that has defined most of the DVD formats (www.hddvdprg.com).
- Blu-ray Disc (BD) is a more aggressive step forward, with 25 GB of capacity per layer, and 50 GB for a DL disc. It is championed by Sony and Panasonic, with strong support from the consumer electronics and computer industries (www.blu-raydisc.com).
Supporters of HD DVD argue that because it is closer to DVD format, it will be easier to manufacture, which means lower investments in factories and the promise of less expensive media and players. Supporters of Blu-ray obviously stress its greater capacity (66% more per layer), and longer-term growth potential. As a result, Blu-ray has been particularly attractive to the computer industry.
But the real battle is not about technical specs, it's about lining up supporters, the titans of consumer electronics and computer industry, and especially the major movie studios that control the content that consumers will demand for the format. Most of these companies have taken sides in this battle, although a few are neutral, as are the disc manufacturers that will be supplying the ammo to the combatants.
Even as an ad-hoc industry consortum, Blu-ray has strong support from companies representing 85% of the CE industry (Sony, Panasonic / Matsushita, Hitachi, LG Electronics, Mitsubishi, Pioneer, Philips, Samsung, Sharp, Thomson), and top PC brands (Apple, Dell, Hewlett-Packard).
HD DVD has the official blessing of the DVD Forum, with key support from Toshiba, NEC, Memory-Tech, Sanyo -- plus the recent strong support from Microsoft and Intel, and the addition of HP from the Blu-ray camp.
On the studio side, HD DVD currently has exclusive support from Universal (that's GE and NBC also), plus non-exclusive support from Paramount (that's Viacom, with CBS and MTV) and Warner Bros and New Line (including Time Warner and HBO).
Blu-ray has the full support of Sony, of course (which includes Sony Pictures, Columbia and MGM), Disney and Buena Vista, 20th Century Fox, and Lion's Gate -- for around 50% of the market, plus Paramount and Warner.
The bottom line: five out of the six major studios are supporting the Blu-ray format. Both Paramount and Warner originally were exclusive supporters of HD DVD, but hedged their bets last fall by also supporting Blu-ray. As a result, Universal gives HD DVD roughly 15% of the U.S. market share for exclusive content, or up to around 50% with Paramount and Warner. Meanwhile, Sony Pictures is obviously locked in to the Blu-ray format, plus Disney, Fox, and MGM give Blu-ray over 40% market share of exclusive content, or over 80% with Paramount and Warner.
Then there's the game market, which has the potential to drive a lot of sales of both players and discs, helping to drive down prices. Microsoft's recent avid support of HD DVD now means that it will offer an external HD DVD drive for the Xbox 360 this year. Meanwhile, Sony's PlayStation 3 is based on the Blu-ray format, and game companies Electonic Arts and Vivendi Universal Games also are Blu-ray supporters.
For the past year, the two sides have been firing up the manufacturing infrastructure, working with equipment companies and replicators to refine the process of manufacturing players and discs, and building up the software and tools to author these new high-def interactive productions.
So now it's time for real products on the shelves -- let's look at what's promised for the U.S. market, this year, and even this spring:
The initial driver for these formats will be the availability of content -- movies and music, new theatrical releases and favorites from the back catalog.
Warner Home Video plans an initial slate of 24 HD DVD titles and 15 Blu-ray titles, including Batman Begins, Charlie and the Chocolate Factory, Dukes of Hazzard, The Matrix, Twister, and Terminator 3.
Paramount also plans to release titles in both formats, with 10 Blu-ray titles, including Four Brothers, Sahara, Aeon Flux, The Italian Job, Tomb Raider, U2: Rattle and Hum, and Tim Burton's Sleepy Hollow.
For the HD DVD Format, the studies have announced that nearly 50 titles will be available this spring with the launch of the players, and expect more than 150 titles for the 2006 holiday season.
For the Blu-ray format, Sony DADC disc manufacturing is ramping up 30 replication lines for a capacity of 5 million units per month for the U.S. and 2.5 million units per month for both Japan and Europe, will supporting both the 25 GB single-layer and 50-GB dual layer formats.
Sony Pictures and MGM Home Entertainment plans an initial slate of 30 titles, including Black Hawk Down, The Bridge on the River Kwai, The Fifth Element, Bram Stoker's Dracula, Desperado, The Guns of Navarone, House of Flying Daggers, A Knight's Tale, Kung Fu Hustle, Legends of the Fall, Resident Evil Apocalypse, Sense and Sensibility, and XXX.
Starting in the summer, Sony will begin adding bonus Blu-ray Java games and other features to new release titles that will be available at the same time as DVD releases. It plans to 10 titles per month by the fourth quarter 2006.
Buena Vista Home Entertainment will begin releasing an initial 10 titles in the Blu-ray format beginning summer of 2006, including Kill Bill: Vol. 1, Hero, Ladder 49, The Brothers Grimm, Armageddon, Jay and Silent Bob Strike Back, and Dinosaur.
Twentieth Century Fox Home Entertainment plans a first wave release of 20 titles, including Fantastic Four, The League of Extraordinary Gentlemen, Behind Enemy Lines, Kiss Of The Dragon, and Ice Age.
Lionsgate, the independent distributor, announced its first 10 Blu-ray releases for the spring, including Lord of War, The Punisher, Saw, T2: Judgment Day, Reservoir Dogs, Total Recall, and Dune and Rambo: First Blood.
Sony BMG Music Entertainment also plans an initial slate of titles from its catalog of live concerts and music videos shot in HD from artists such as Usher, Destiny's Child, Bruce Springsteen, and The Dave Matthews Band.
The interesting issue to watch for these high-def DVD releases will be the pricing -- whether they are priced higher for early adoptors, or more aggressively for the mass market as another front in the format war.
To view movies in these new formats, of course, you'll need new set-top players. And you'll have to choose a side in the war -- like Beta vs. VHS -- since there's no sign of multi-format players or even a manufacturer making products for both formats.
Toshiba has broken out of the gate quickly for HD DVD, promising players to be available in March 2006, starting at the rather low price of $499 for the HD-A1 HD DVD Player and $799 for the more upscale HD-XA1 with motorized door, function buttons, and two front USB ports. It also supports DVD and CD playback.Thomson also announced the RCA HDV5000 HD DVD Player, also at $499.
Toshiba HD DVD Player
Pioneer has taken a different approach by focusing on the enthusiast market with the BDP-HD1 Blu-ray Disc player, to be available in June for $1800, and also supporting DVD playback, plus DLNA (Digital Living Network Alliance) home media networking.
Similarly, Samsung announced the BD-P1000 Blu-ray home player to ship in early spring for around $1,000, also with DVD and CD playback, Sony announced the BDP-S1 Blu-ray Disc home player for early summer, and Panasonic announced a Blu-ray and DVD player to be launched in the summer. LG has also announced a player.
A key issue for players is that they are designed to connect to your high-def TV display with an HDMI (High Definition Multimedia Interface) connection. The good news is that this is a single digital cable for both high-def video and audio, supporting 720p and 1080i (and upsampling of standard-def DVD content). The bad news is that HDMI also included copy protection required by the studios, which means your new high-def DVD player will not work well with older displays, even with DVI connections. The players revealed so far do all seem to have additional analog connections, but these will likely be downsampled to lower res, depending on the desires of the studio that distributes the disc.
Another issue is that, like the beginnings of DVD, these initial set-top devices are playback-only. However, recording capability should be added quickly, unlike the years of delay with DVD. Early products may write single-layer discs only, and then double-layer, and maybe write-once (R) and then re-writable (RW/RE).
On the desktop, however, both high-def DVD readers (ROM drives) and burners have been announced for use on computers.
Samsung BD Drive
For HD DVD, Toshiba demonstrated the Qosmio line of high-end AV notebook PCs featuring slim-type HD DVD ROM drives that can read or write current DVD formats, and NEC is also planning to enhance next-generation PCs with HD DVD drives.
For Blu-ray, the new Sony RC series VAIO desktop computer, available in early summer, will include Blu-ray recording. HD videographers than can shoot with a high-def camcorder, edit HD directly with Sony's Vegas software, and then archive and share on BD-R (write-once recordable) and BD-RE (re-writable) Blu-ray discs, or on traditional DVD-R/RW, DVD+R/+RW discs, capitalizing on flexibility in storage, playback and recording. RC series desktops will be.
Sony also announced a Blu-ray aftermarket drive for PC expected to be available this year, supporting 25 and 50 GB, BD-R/RE discs, as well as DVD+R/+RW, and CD-R/RW recordable media.
Pioneer announced the half-height BDR-101A Blu-ray Disc/DVD writer, to be available in the first quarter. And Philips has announced a TripleWriter PC drive.
Originally, one key issue expected for these drives was the complexity and cost of supporting both a blue laser for high-def and a red laser for DVD and CD, plus different lenses for their three different wavelengths, plus both reading and writing. Happily, the engineers have been able to pack support for all three formats into these drives. Just be sure to double-check if your new drive both reads and writes, and supports both DVD and CD, especially with half-height drives for notebooks. And keep a look out for ROM upgrades to add support for additional formats (single to double to triple layer) and faster access times.
Another issue again will be copy protection. You may be able to play back high-def DVDs on your computer display, but new content protection technologies will prevent extending that playback to other devices, unless through an authorized connection such as HDMI. This, along with the high-def resolutions, will complicate playback for shared desktops and large venues.
At least one area required for using these formats seems to have been solved -- the recordable disc manufacturers are neutral parties in this dispute, and are ramped up and ready to provide the media required to keep the format war running.
Besides supporters such as Sony and Panasonic, other disc manufactures including Imation, Memorex, TDK, and Verbatim have announced a full range of media -- write-once and recordable, single and dual-layer.
These discs include hard coat surfaces to resist smudges and scratches, as needed for the smaller data pits, especially with Blu-ray.
The final part of the picture for using these high-def DVD formats on a PC is authoring software, for burning data and for creating your own high-def productions.
For Hollywood features, Sonic Solutions has created versions of its high-end production tools and assembled the High Definition Authoring Alliance (HDAA) to support production houses. Sonic's encoding, authoring, and emulation solutions tools enable the creation of video and audio for each format's standard playback modes -- HDMV for BD and Standard Content for HD DVD -- and also provide support for the advanced interactive capabilities -- Web-like iHD for Advanced Content for HD DVD and Java-based BD-J for Blu-ray Disc.

Sonic CineVision HD compression tool

With DVD, there was a significant lag of multiple years before authoring functions migrated down from high-end tools to independents, corporate, enthusiast, and then mass market consumers. With the new high-def DVD formats, this progression will be must faster. For example, Roxio is now part of Sony, so these technologies can flow more quickly into more consumer tools.

In addition, CyberLink and Ulead / InterVideo have been active with these formats, and have demonstrated high-def DVD playback, plus tools to turn your PC into a set-top real-time Blu-ray recorder, with the ability to use the BDAV recording mode to record high-def video from HDV camcorders such as the Sony HDR-HC1 to Blu-ray discs in full HDV resolution (up to 2 hours on a single layer disc).

These companies, along with Nero and NTI also have demonstrated various other tools for data burning and HD authoring to these formats.

The issue with lower-end authoring, however, is the difference between providing simple recording functions, more DVD-like authoring, or access to the higher-end advanced interactivity features. It should be relatively straightforward to package up DVD-like features for these new formats, with high-def content and basic menus. More sexy features like menus overlaid on video also could be added through built-in templates. But the next step, towards the total flexibility of Web-like or Java programming, is a very big step. The gap between the look and capabilities of feature-film high-def DVDs and PC-authored DVDs will be quite apparent, for consumers, corporate, and even event videographers.

The good news is that high-def DVD is really, actually, finally going to be here. The bad news is that it is mired in a format war, which will require consumers to pick sizes as they make investments in new technology. But the benefit from the format war is that competition is causing the technology to being deployed fast into the market, driving down prices and adding features that would not be expected in a more typical roll-out while the manufacturers recouped their investments and experimented with products for several years in the high-end enthusiast market.

If you want to dive in to high-def movies, make sure you have the proper display and connections to actually see all that quality. Also investigate the networking possibilities for sharing the copy-controlled content over your local network.

On the PC side, the significantly larger capacity of Blu-rays makes it very attractive for PC use, which can also drive sales (and associated cost reductions) of hardware and discs. HD DVD seems more focused on movie playback, while Blu-ray seems more active with recording as well.

You'll also have to choose a side and make an investment in the outcome of this battle. You'll need to weigh the aggressive lower pricing of the HD DVD camp against the larger catalog of films available on Blu-ray. And you'll have to guess how this battle is going to play out -- If HD DVD gets out of the gate fast, at least some of the other studios will be obviously tempted to release in both formats. On the other hand, it's hard to imagine that Sony will allow itself to lose by refusing to lower prices if needed, and a big success from PlayStation 3 will help advance the natural cost reduction curve.

HD DVD
www.hddvdprg.com

Blu-ray Disc (BD)
www.blu-raydisc.com

Originally published in Camcorder & Computer Video magazine, 22, 4, April 2006.