Manifest Technology Blog -- Site: | Articles | Galleries | Resources | DVI Tech | About | Site Map |
Articles: | PC Video | Web Media | DVD & CD | Portable Media | Digital Imaging | Wireless Media | Home Media | Tech & Society |
DVD & CD: | DVD & CD Articles | DVD Software Gallery | High-Def DVD Gallery | DVD Authoring Resources |

---
Watching DVD Your Way:
Windows DVD Players (12/2003)
(CyberLink PowerDVD, InterVideo WinDVD,
Windows Media Player 9)
by Douglas Dixon
New Players
Microsoft - Windows Media Player 9 Series for Windows XP
Enhanced DVD
CyberLink PowerDVD
InterVideo WinDVD
DVD Your Way
References
How do you do DVD? Do you watch movies on DVD on your family television? That's a great experience for people with a wide-screen display and surround-sound audio, and actually a big driver for sales of high-def televisions. Or do you prefer watching DVDs on your PC? After all, your latest PC may well have a sharper display and better multi-channel audio than the old TV in the living room.
Watching DVDs on a PC also has additional advantages. For travelers, of course, playing DVDs on a laptop lets you watch your own movies on long airplane flights. For movie fans, DVD player software lets you get more from the DVD experience, stepping frame by frame through interesting effects, and mixing and matching audio tracks and subtitles.
For tinkerers, PC-based players allow you to enhance and customize the picture and sound display, for example to brighten and sharpen dark movies or to optimize the surround-sound experience (even creating virtual surround from stereo speakers or headphones). And for creative types, video editors, and people interested in DVD authoring, these applications enable you to explore and deconstruct the navigational structure and design of commercial DVDs so you can learn from the pros.
Of course, DVD player software is not new, as products like CyberLink PowerDVD and InterVideo WinDVD have been used widely on Windows systems, and are bundled with most new PC systems and add-in DVD drives. The first half of 2003, however, brought a new version 5 of each of these applications, along with the Microsoft Windows Media Player 9 for Windows XP. While these new releases do not contain dramatically different new capabilities, they do provide a more refined interface for controlling DVD playback, and a wider range of options for customizing the movie-watching experience.
In this article, we'll look at these three tools for playing DVD movies on PCs, showing how you can use them to explore DVDs and customize your viewing experience. We'll also look at some of the more interesting new features of each product. While they have much in common, each has different focuses and strengths, so your favorite will depend on what you want to do with them.
While you may think of Microsoft's Windows Media Player as the built-in player for video and audio files, it has evolved significantly from its basic origins in earlier versions of Windows. Media Player 9 Series, released in January 2003, is part of a family of digital media tools and technology, including the flagship Media Player 9 for Windows XP. Media Player is now an all-in-one player and organizer for music and video, spanning CDs and DVDs, Internet streaming and downloading to portable devices (www.microsoft.com/windowsmedia).
You may be familiar with using Media Player to play music CDs. Media Player makes playing music more enjoyable by leveraging the Internet to provide more information: Just pop in the CD, and Media Player looks up the CD information on the Internet and then displays the album name and song titles. The Now Playing Info Center view displays the album cover, information and reviews on the artist and album, and links to other information including music and video downloads and the artist website.
But Media Player is not just for music. It provides the same kind of services when playing DVDs. Insert the DVD, and Media Player again can access the Internet to look up information about the movie.
Media player has a profusion of display and information options, accessible through various menus, right-click menus, and tiny buttons arrayed around the interface. Use the View menu to select Now Playing Options, Show Media Information to display information about the movie, including the cast and reviews.
Select Show Playlist to see a nice hierarchical view of the Titles (sections) and Chapters (scenes) on the DVD. Typically, the main movie is under the first title on the DVD, and the additional special features such as "making of" documentaries, deleted scenes, and trailers are organized under the additional titles.
With the Playlist view, Movie Player displays names and durations for the chapters in the movie. You can explore the navigational design of the disc, and double-click to jump directly to your favorite part of the movie, instead of having to step through the Scene Selection menus. This is actually a nicer interface for exploring a disc than provided by third-party players like PowerDVD and WinDVD, although other forms of navigation are clunkier in Media Player.
For example, instead of providing a remote control-like push-button interface, with Media Player you need to use the DVD Features menu (under the View or right-click menu) to movie through the DVD menus, and use the Play menu to switch audio and subtitle tracks.
Movie Player also provides additional controls to enhance DVD playback, under Enhancements, Show Enhancements (in the View menu or the small pop-up menu at the bottom left of the video window). The Enhancements include Video Settings for Brightness and Contrast, Play Speed Settings for Slow or Fast playback, and audio Quiet Mode and Graphic Equalizer.
CyberLink PowerDVD and InterVideo WinDVD go beyond Media Player to provide more options to customize your viewing experience, with interactive playback controls, browsing tools, video and audio enhancements, and surround audio options. They also provide screen grabbing functions to capture still images from DVDs (especially useful for studying menus or writing reviews).
They also are general media players, for playback of a variety of media formats including DVD-Video movies, DVD-VR (from set-top DVD recorders), Video CD (VCD 2.0) and Super VCD (SVCD). You can play discs from your DVD or CD drives, or from DVD volumes on hard disk (especially useful to test DVDs that you are authoring).
In addition, PowerDVD and WinDVD play video and audio media files from hard disk, now including built-in support for playing DivX video files. You can create playlists of files, or use variable-speed playback to examine individual video files or audio clips in detail. You also can set bookmarks at favorite scenes, and even export them for archiving.
Perhaps the best improvement in the new versions of PowerDVD and WinDVD, however, is in usability. The interfaces have been streamlined and simplified, eschewing sexy-looking skins with tiny and obscure controls for less busy displays with more straightforward and accessible buttons. Both also provide extensive configuration options, direct access to DVD playback controls, and continuous feedback on the DVD playback.
CyberLink PowerDVD 5, released in June 2003, incorporates a bevy of new video and audio playback technologies (www.gocyberlink.com) with a more refined interface. PwoerDVD displays two windows, the main video window and the floating control panel.
The right side of the control panel includes the main DVD playback controls, for selecting the playback source (DVD, on-disk volume, or media files), playing and skipping through the video, jumping to the DVD menus, and adjusting volume. It also has a pop-out pad for menu navigation.
The left side of the control panel includes a nice status display and a navigational slider to show (and set) your position in the movie, the audio volume control, and a few buttons for direct access to alternate streams and other features. The Capture button now offers a more flexible screen capture feature: right-click to capture to wallpaper, the clipboard, or a file, and even to select the capture size.
The last button displays the Configuration dialog, to set up Player Setting defaults, the Skin look, Video and Audio enhancements, and Parental Control. It also contains an Information tab that displays interesting technical details about your system player, display, audio, and hardware.
The full capabilities of PowerDVD, however, are best accessed through the extensive right-click menu, which includes 28 main items, plus additional pop-out submenu selections. By browsing through these nested menus, you can explore the structure and range of options authored into the disc, including the Title and Chapter structure and the available Audio Languages, Subtitles, Viewing Angles, and Closed Captioning. For learning languages, PowerDVD provides the feature to not only mix and match the audio soundtrack and subtitle languages, but also to simultaneously display a second subtitle (and the closed captioning, while you are at it).
For exploring the disc further, you can use the DVD Browser window to view the hierarchical structure of the disc and then jump to a different chapter. Unfortunately, the browser closes each time you use it, and the ability to jump arbitrarily within the disc may be restricted by the disc's author. PowerDVD also provides an alternate Viewer display with thumbnails of each chapter within the current title. Again, you can click to jump directly to that chapter, but the Viewer window then closes and must be regenerated each time you use it.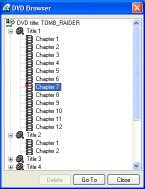 For viewing your DVDs, PowerDVD includes several new CyberLink video enhancement technologies.
- CyberLink Eagle Vision (CLEV) adaptively enhances video contrast and colors across the scenes in a movie. CyberLink cleverly offers a split-screen mode so you can see how it can automatically bring out more richness and detail, especially in darker scenes. PowerDVD also offers Video Profile profiles to tune the movie look to your display, and Color Cast controls to adjust bright or dark scenes.
- CyberLink Pano Vision (CLPV) is a non-linear stretching technique that makes a more natural looking image when displaying widescreen movies on standard 4:3 displays (and vice versa). The trick is to stretch the edges of the image while not distorting the main center portion, reducing the effect of seeing very tall and thin people.
PowerDVD 5 also adds Multi-Channel Environment Impression (CLMEI), which creates multi-channel audio from two-channel audio tracks, such as virtual surround sound from stereo music. This joins technologies like Dolby Headphone and Dolby Virtual Speakers (DVS) for creating surround-sound effects from stereo speakers, and SRS TruSurround XT for virtual surround sound, plus Dialog Clarity enhancements and TruBass power adjustments.
PowerDVD 5 is available for download directly from CyberLink and in a box edition for retail sale. The download version is US $49.95 for the Deluxe version, $69.95 for the Standard version, and $29.95 for the Express version. The Deluxe version includes Dolby Virtual Speaker and DTS Digital Surround. The Express version also omits other surround-sound audio.
InterVideo WinDVD 5, released in July 2003 includes a similar array of cool functions for customizing your movie viewing experience (www.intervideo.com). These are nicely packaged as pop-out subpanels on the right of the floating control panel, plus a collection of add-on booster packs. It also adds a basic Movie Encyclopedia with links to more information on the Web.
The main control panel contains the key DVD remote control functions, including play controls, position slider, menu selection, and volume, along with playback status. The pop-out subpanels then contain more advanced controls: Navigation and Language for titles, chapters, and streams; Display for video format; and Color for display presets and custom settings (TV, Monitor, LCD, Projector). The Video Effect subpanel provides a variety of useful (and fun) enhancements including Cinema Enhancement color and brightness boost, also with a split-screen option. Even better, you can enable multiple effects at once.
The final Time Stretching subpanel provides a very clean interface for slowing down or speeding up playback. Just click the turtle or the rabbit icons to time stretch from 1/2 speed to 2 X, still with understandable audio. Along with the audio and subtitle selection features, Time Stretching is a great way to examine and study video and audio clips in detail. The LanguageMate feature under the Repeat menu also can repeat a section for 6, 12, or 18 sections.
InterVideo offers additional functions through add-ins. The Audio Booster Pack ($12.95) adds movie and music customizations including surround sound, channel volume and delay, and equalizer with sonic presets. The Mobile Technology Pack ($19.95) provides power schemes to extend play time and control battery life for laptops. The DVD-Audio Pack ($39.95) supports navigation and playback of DVD-Audio music discs, and the QSound Plug-in ($14.95) adds 3D audio effects.
To browse a disc's contents, you can use the right-click menu to jump to a chapter with the current title. Or open the Bookmark Browser panel to add and view thumbnails of bookmarks that you have defined on the disc. WinDVD also can scan the entire disc and create thumbnails of each chapter in each title on the DVD, which you can then use to jump within the disc. However, this scanning processes freezes playback for a minute or two, the thumbnails can be less than useful (black or repeated), and some discs do not permit jumping to arbitrary chapters within a disc. The Capture browser is displayed under another tab, allowing you to make quick screen captures to memory, and then review and save them to disk.
WinDVD is available from InterVideo in the Platinum edition for $69.95, with high-resolution audio and surround-sound technologies, or the Gold edition for $49.95.
DVD on TV can be a great movie-watching experience, with some interactivity in jumping to chapters or setting audio and subtitle playback options. But DVD on PC is a much deeper and customized experience. You can use the built-in Media Player 9 on Windows XP to access movie information and explore the title and chapter structure of your discs, and to tweak the video and audio settings. Or you use software players like PowerDVD and WinDVD to dig deeper into your discs and enhance the playback.
With PowerDVD and WinDVD, you can optimize the video image to your display (or multiple displays), and tune the surround-sound audio playback for your system's hardware. You can then browse the contents of the disc, set bookmarks at favorite points, and capture screenshots of individual frames.
To help with your own DVD authoring, you can deconstruct the content, navigational structure, and the track and stream design, using the control panels and nested right-click menus to easily view the available titles, chapters, audio and subtitle streams, captions, and other DVD features.
These tools are also general media players that you can use to organize playlists from DivX video to MP3 audio. Whether watching a DVD or a video or audio clip file, you can learn more by slowing down the playback, stepping through individual frames, and even repeating a short section.
Your choice between these tools, or other software players such as Sonic CinePlayer (www.cineplayer.com), will depend on your interface preferences and the types of DVD content and hardware components that you enjoy to use. To try them out, download the Trial versions from the company websites (albeit large downloads, at 6 to 14 MB). The PowerDVD Trial version runs for 14 days, and limits the length of video and multi-channel audio playback. InterVideo also offers a Trial CD with all its products for $4.99.
Whether you love to watch movies, or want to author your own DVDs, you will find these new software players take your DVD experience to another level.
Microsoft - Windows Media Player 9 Series for Windows XP
www.microsoft.com/windowsmedia
CyberLink - PowerDVD
www.gocyberlink.com
InterVideo - WinDVD
www.intervideo.com
Sonic Solutions - CinePlayer
www.cineplayer.com
InterActual Technologies
www.interactual.com