Manifest Technology Blog -- Site: | Articles | Galleries | Resources | DVI Tech | About | Site Map |
Articles: | PC Video | Web Media | DVD & CD | Portable Media | Digital Imaging | Wireless Media | Home Media | Tech & Society |
DVD & CD: | DVD & CD Articles | DVD Software Gallery | High-Def DVD Gallery | DVD Authoring Resources |

---
Delivering HD Discs: Roxio DVDit Pro HD (4/2007)
by Douglas Dixon
Getting to Blue
MyDVD 9
DVDit Pro HD
Authoring
Customization
Burning
Blue and Beyond
References
We can shoot HD with today's pro and even consumer camcorders. And we can edit HD, as video editing tools have stepped up to the higher resolutions and new formats. But we still can't quite deliver the final production effectively -- as the ease of burning a DVD is still not quite there for high-definition discs.
The first generation of tools for next-gen DVD can at least dump video to disc, and now the next generation, with Roxio DVDit Pro HD, can author Blu-ray discs with the full compliment of DVD menus and navigation (www.roxio.com).
What we want is pretty clear from the new high-definition DVD formats is pretty clear: at least the same kind of functionality and workflow as we're used to with DVD -- authoring to disc on a PC, then sharing and playing back on a set-top player.
But unfortunately this was not the focus of the Blu-ray Disc (BD, www.blu-raydisc.com) and HD DVD (www.hddvdprg.com) camps as they brought their competing blue-laser formats to market. Instead, they were focused on playback of store-bought movies, with set-top players first to market (but not recorders), and limited desktop burners just starting to come into the market.
In addition, the actual disc formats are complicated, although they do support more limited modes designed for set-top recorders (called BDAV for Blu-ray). These are designed for recording video clips to disc, without menus or fancy DVD interfaces. The first high-def DVD authoring tools use these modes, including CyberLink, InterVideo/Ulead, and Roxio MyDVD.
More DVD-like menu navigation then requires more sophisticated authoring tools, accessing Blu-ray's HDMV (Movie) mode, or beyond to more advanced interactivity with Blu-ray's BD-J Java mode and HD DVD's iHD interactive mode.
Roxio DVDit Pro HD is the first tool to offer full-up DVD authoring for Blu-ray discs. (Roxio implemented Blu-ray first because burners for the format were available first.) Meanwhile, Pinnacle has released a HD DVD Authoring Pack for Pinnacle Studio that authors to HD DVD format with DVD menus (www.pinnaclesys.com).
But what if you don't have a burner? After all, just like the experience with the dawn of DVD, the first burners are slower, only support single-layer discs, and may have other limitations. In DVD authoring, we solved this problem in two ways: We could author to disc folders on hard disk, which allowed testing and demoing without the cost of burning expensive discs. And we could burn shorter productions to older formats (like Video CD), which could be shared with the much larger installed base of legacy machines.
For the high-def formats, we'd like the same options: authoring to hard disk to experiment with the format, and burning high-def format data to standard DVD, to at least allow sharing short productions to demonstrate the possibilities and potential of the new formats.
Unfortunately, again, this has not been the focus of the two competing camps. The HD DVD specification does provide for an HD DVD-on-DVD format, which explains why the Pinnacle HD DVD Authoring Pack would be useful even without available burners. But unfortunately the Blu-ray specification is only belatedly adding this support, and apparently just adding support even for playing recorded discs in HDMV format with menus.
In addition, much like the early days of DVD, some of the early authoring tools do not support authoring to hard disk folders -- and even if they did, some of the early software players do not support playback from hard disk.
Yes, playback is another problem -- again, the early burners and their bundled software were focused first on data recording (to take advantage of the larger disc capacity), and then added basic video recording. As a result, the Blu-ray and HD DVD software players did not necessarily support playback of commercial movie titles, unless the PC system and video display conformed to the Hollywood content-protection requirements, including an HDMI interface to a digital video display. The newer software recognizes that it's legal to play personal content, and even to play commercial content at least by shrinking the HD content to standard DVD resolution.
And set-top players have the reverse problems, with varying support for playing recordable discs, and for video vs. movie modes.
The bottom line to all this: As you plan to move to a high-def DVD authoring workflow, check the hardware and software components carefully to make sure they really do give you at least DVD-like capabilities from end to end.
Sonic Solutions has refocused its consumer / prosumer / corporate DVD authoring software under the Roxio brand, with Roxio MyDVD 9 as the entry level authoring tool. MyDVD is designed for automated drag-and-drop DVD creation: import clips from camcorders, work with both standard and high-definition, automatically generate clip and chapter menus, plus create slideshows with transitions and music.
The base Roxio MyDVD 9 Studio is US $49.99 (download), or step up to MyDVD 9 Studio Premier for $69.99 with basic Blu-ray burning (without menus). Roxio also has rolled MyDVD into its flagship Easy Media Creator 9 Suite for $79.99, with video, audio, and image editing, data disc burning, and more.
While MyDVD is focused on automating the authoring process -- for example by automatically laying out linked menus -- DVDit opens up your DVD project for extensive customization of both the look (menu editing) and the navigation (timeline editing). And yet it has a clean interface that still retains drag-and-drop simplicity for putting together a project, applying menu styles and adding and linking buttons.
The base Roxio DVDit 6 Pro is $299.99, with support for up to 8 audio and 32 subtitle tracks, plus Dolby Digital stereo encoding (plus pass-thorough support for 5.1 surround sound).
But we're interested in the full Roxio DVDit Pro HD for $499.99, which allows you to author a project at full HD resolution, and then deliver the result as fullscren or widescreen, standard DVD and/or Blu-ray. It's all the same old DVD authoring stuff that you may remember from the previous version, except that you can now author menus with full HD widescreen content, and it outputs to Blu-ray format. Oh, and a couple more useful things, including 3:2 pulldown support, exact frame-accurate chapter placement, and Blu-ray mastering capability so that you even can deliver your productions to be manufactured.
So let's step quickly thorough the DVDit authoring process, and highlight the new capabilities for Blu-ray authoring.
DVDit has a clean interface design, with the main Project window at the top left to organize your project's components: Menus, Titles (individual clips and slideshows), and Playlists (linked chains of clips).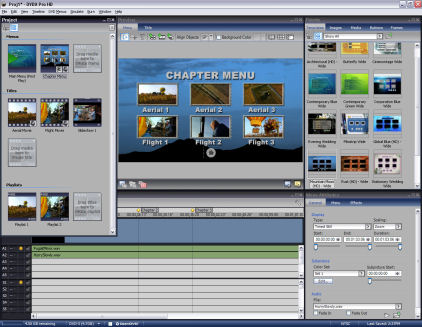 DVDit Pro HD Project
Chapter menu in Preview window
Menu thumbnails in Project window at left
Menu templates in Palette window at top right
Timeline at bottom
Menu display Attributes at bottom right
Then use the Palette window at the top right to access the elements used to build your disc: Templates (for menus), Images (stills and menu backgrounds), Media (video and audio files), Buttons (designs), and Frames (used around thumbnail images of clips).
Both the Project and Palette windows offer the handy option to view the contents as thumbnails, or as a hierarchical list with details about each element.
To start working on your project, import the media clips that you want to use into the Palette window -- video, audio, and images. DVDit can import in most common formats, including HDV, AVI, Windows Media, QuickTime, MPEG-1,-2,-4, and Dolby Digital AC3. It examines the files when they are imported and warns if they will require transcoding (re-compression) to DVD and/or Blu-ray format.
From there the basic design of a disc is all drag and drop editing in the top center Preview window. You assemble the menus by dragging a template design, adding button graphics, and dragging titles to create links. The Menu tab also includes design tools to add title text and help with layout and alignment.
And for each video title, use the Timeline window at bottom left to add multiple audio and subtitle tracks, and to set chapter points within the clip. Then preview the results in the Title tab of the Preview window.

DVDit Pro HD -- Menu editing
Title video in Preview window
Menu hierarchy in Project window at left
Media listing in Palette window at top right
Timeline at bottom with multiple audio and subtitle tracks
Movie Attributes at bottom right
As you work, the elements of your project are added to the main Project window, so it's easy to review them, and jump back and forth as you work on related items.
Ta-da: Fast DVD authoring with straightforward drag and drop editing. Albeit not quite as automated as MyDVD: you do need to manually lay out buttons on menus and link together a chain of multiple menus. DVDit does include a handy slideshow generation tool, with up to 999 high-resolution images, transitions and music.
While you can do straightforward DVD authoring with DVDit, the real power comes from going further to customize your disc's appearance and navigation, using the options in the Attributes window at the bottom left.
You can build menus from the templates, or from scratch using your own backgrounds, buttons, and other elements, or customize your own designs and import from Photoshop (including navigational buttons). You then can tweak the look of menus with color effects, and buttons with text, drop shadows, opacity, and color effects.

DVDit Pro HD -- Menu editing
Chapter menu in Preview window
Menu hierarchy in Project window at left
Button objects in Palette window at top right
Button / link Attributes at bottom right
For each menu, you can control whether the background is a still image or a video, whether it is displayed forever, displays for a specific length of time, loops, or times out.
For the buttons on each menu, you can set the default button that is selected when the user jumps to the menu, and the order in which the buttons routed as the user presses Up/Down and Left/Right on the remote. You also can set buttons to auto-activate, so, for example, the user only needs to press Left or Right on the remote and the disc will immediately jump to the previous or next menu.
You even can control the way buttons are highlighted with what are called subpictures, filled or outlined, shapes or rectangles, and selected from different sets of highlight colors.
Edit Slideshows
For global disc navigation, you can set Remote Actions -- the action to be performed when the user presses the Menu or Title buttons on the DVD remote control during video playback -- both as defaults for the disc (i.e., jump back to the main menu), and individually for each title clip (i.e., jump back to a sub-menu within a logical section of the disc).
For each navigation link, you can set not only the link target (menu, title clip, slideshow, or playlist), but also specify the specific audio and subtitle track to be displayed (i.e., for choosing alternate languages).
You also can control and override the navigational flow between menus and titles by setting End Actions to specify where navigation flows when playback reaches the end of a title or a (timed) menu. You can use this approach to have a disc play unattended if no user makes a selection. Even better, when you link from a menu, you can override the default end action that was set for the destination to instead have it return to the starting menu. This allows you to set up alternate paths through a disc, so one menu plays through a long sequence, and another just plays individual clips and then returns.
With these controls you can really do imaginative things, including self-playing discs, game discs with unlock codes, menus with video transitions, and multi-access discs that remix their content with different menu access and playlist orders.
Once you're done designing your DVD, use DVDit's Simulation tool to preview the playback, checking the visual look, navigation links, and details like button highlights. Even better, you can preview as you are working by simulating from a selected point within the disc structure.
Then it's time to compress the video and audio assets, build the DVD format, and burn to disc. DVDit provides a general control over compression quality, traded off against the speed of transcoding. Or you can dig into the Project Settings to explicitly control the video and audio compression and bit rate. For HD content on Blu-ray, DVDit supports 1280x720p, as well as full 1940x1080i and 1940x1080p. It also supports Blu-ray discs with mixed aspect ratio, resolution (SD and HD), and frame rates.
How much HD video can you fit on a single-layer (25 GB) Blu-ray disc? Roxio estimates that a disc with 720p assets at a 15 mbps bit rate can hold up to 2.5 hours of HD content, and a disc with 1080p assets at 24 mbps can fit around 90 minutes.
DVDit currently can compress HD MPEG-2 video at up to 40 Mbps, and audio in Dolby Digital at up to 640 kbs and uncompressed PCM. (Roxio notes that AVC MPEG-4 and VC-1 Windows Media Video are "not yet" supported.)
Then you can burn your DVD direct to Disc, or to a Volume on hard disk to preview and test, or to a Disc Image on hard disk to archive. If you save on hard disk first, DVDit can then burn to a disc from the Volume or Disk Image. Before you burn, DVDit does warn you if there are problems with your disc design such as missing links or overlapping buttons.

DVDit Pro HD -- Standard- or High-Definition encoding settings

It's then only at burn time that you need specify whether you want to create a standard DVD or a Blu-ray disc. DVDit will rescale the menu graphics, video, and images as needed for the destination format -- so you can author once in high-def, and then burn the same project both in full HD to Blu-ray and in standard def to a DVD.

If you don't have a Blu-ray burner, then you can write to a Volume on hard disk and play from there (i.e., with updated player software from CyberLink or InterVideo). DVDit also can burn in Blu-ray format to a standard DVD disc, but don't expect it to be playable right now in set-top Blu-ray players (or even with DVD player software). But at least these options give you ways to experiment with Blu-ray and even transport short productions between PC systems.

As with its advanced design and navigation features, DVDit goes beyond just burning to support professional mastering services so you can deliver your project on tape to a replication factory to manufacture discs. DVDit supports the appropriate delivery formats for DVD (DLT) and Blu-ray Disc (CMF) mastering, including dual-layer discs. And you can specify content protection features (with appropriate licenses) including region coding, Macrovision and CSS for DVD, and AACS for Blu-ray.

Roxio DVDit Pro HD is the beginning of the next generation of DVD authoring, with advanced DVD design and navigation features for both standard DVD and high-def Blu-ray content. In addition to this customization, it goes beyond entry-level tools with alternate audio and subtitle tracks, and support for mastering discs for manufacturing. And with the new profusion of video formats, resolutions, and aspect ratios, DVDit can handle mixed collections of content, and repurpose then as needed to either DVD or Blu-ray.

DVDit is designed for a wide range of audiences, including the enthusiast who wants to go beyond automated DVD creation, the corporate user who needs a customized look and the ability to provide alternate uses for a collection of material, and videographers who not only want complete control of their discs, but also the ability to create discs for manufacturing.

The Blu-ray support is a welcome first step in authoring HD presentations with DVD menus and functions. However, the Blu-ray format currently has nowhere near the ubiquitous playability we are used to from DVD, so be careful to manage expectations about how it can be used. Expect to see similar support in authoring tools for the HD DVD format as burners become available, as well as developing support for AVC and VC-1 video compression (to squeeze more content on discs than with MPEG-2). Then, as the professionals get more experience with advanced HD authoring with fully customizable interactivity (such as menus that pop up over playing video), we can hope to see these trickle down to more affordable tools as well.

Meanwhile, you can get started with DVDit Pro HD, and begin to design HD discs to showcase and share your HD content.

Roxio - DVDit Pro HD, MyDVD
www.roxio.com

Sonic - High Definition
www.sonic.com/HD

Pinnacle Studio
www.pinnaclesys.com

Blu-ray Disc (BD)
www.blu-raydisc.com

HD DVD
www.hddvdprg.com

Originally published in Camcorder & Computer Video magazine, 23, 2, April 2007.