Manifest Technology Blog -- Site: | Articles | Galleries | Resources | DVI Tech | About | Site Map |
Articles: | PC Video | Web Media | DVD & CD | Portable Media | Digital Imaging | Wireless Media | Home Media | Tech & Society |
DVD & CD: | DVD & CD Articles | DVD Software Gallery | High-Def DVD Gallery | DVD Authoring Resources |

---
Roxio Easy Media Creator 7.5 Suite (7/2005)
by Douglas Dixon
Disc Burning & Copying
DVD Creation and Playback
Photo and Video
Music / Audio
E-Z Suite
References
Want to mess with video and audio and photos and data files? Want to capture and create, copy and edit, burn and share, on your PC, and to CD or DVD disc? Then Roxio has an updated solution for you -- the new of its Easy Media Creator version 7.5 suite (www.roxio.com/en/products/emc75). Released in April 2005, EMC 7.5 bulks up the core Roxio data burning tools, includes additional components from Sonic (which purchased Roxio), and adds interesting new tools for capturing and converting music.

The Easy Media Creator suite started with the long-lived Roxio / Adaptec Easy CD/DVD Creator, grew with the addition of consumer editing tools built around PhotoSuite and VideoWave (acquired from MGI), and now has added Sonic's MyDVD Slideshow, CinePlayer, and Backup MyPC to provide stronger support for DVD and data discs.
But the really fun new features in EMC version 7.5 are the new and enhanced audio tools for capturing clips from Internet music or radio shows, converting music from records or tapes, and then editing and mixing the results.
Let's take a look at the main components of the suite, and then focus on the new music features.
While you can access the individual components of Easy Media Creator under the Start menu, it's easier to use the Easy Media Creator Home screen as a launcher to select the task or application that you want to use. EMC is a collection of 20-some tools (depending on how you count them), so it's helpful to view them organized by task and media type.

Easy Media Creator Home screen / launcher
The core data and music burning application, of course, is the venerable Creator Classic, with easy drag and drop organization of files to burn to disc. But it's even more of a backup tool, supporting spanning large collections to multiple discs, and even offering 128-bit encryption to protect your files.
EMC also includes a handy Disc and Device Utility to examine and format discs, and a new DVDInfo Pro utility for testing the performance of drives and media.
EMC 7.5 also adds Sonic's Backup MyPC 6, which offers comprehensive support for incremental backups, scheduling, compression, more storage options, and system restoration.
There's a separate Disc Copier tool to quickly copy CDs and DVDs, and extract and recompress (unprotected) DVDs to fit on smaller discs. Plus a new Disc Image Loader utility to mount CD or DVD disc image files as virtual drives, so you can access multiple discs simultaneously direct from your hard disk.
EMC also includes the Drag-to-Disc packet writing driver to allow you to simply drag and drop files onto a CD or DVD. (These kinds of drivers can conflict with other such drivers, so the EMC installer offers the option to not install this feature.)
Besides the DVD data and copying tools, Easy Media Creator includes the DVD Builder application for authoring video DVDs, complete with menus and navigation. You can capture and import videos and photos, create a disc directly from a DV camera or capture card, and re-edit previous projects on disc. EMC 7.5 also adds a separate DivX-to-DVD Creator tool to convert DivX files to DVD format so you can burn and play them on disc.
In addition, EMC 7.5 now includes Sonic MyDVD Slideshow 6, the automated DVD and VCD slide show creation component from MyDVD to create discs with multiple photo slide shows, with pan and zoom effects, transitions, and synced to music. And to view your discs, EMC 7.5 also adds the Sonic CinePlayer 2 DVD player.
For working with photos and video, the previous release of Easy Media Creator 7 added separate Capture and Media Manager applications. Use Capture to grab media files from external devices (digital cameras, scanners, video capture devices, audio inputs, music CDs, and even scenes from DVDs). Then use Media Manager to view and organize all your media files, and then transfer them to PhotoSuite 7 Platinum or VideoWave 7 Professional for editing (the full versions of both applications are included in the suite).
Both PhotoSuite and VideoWave follow the same consumer-friendly interface design, with an inviting and colorful look and built-in wizards for common operations. PhotoSuite has handy one-click photo fixing and enhancement tools (e.g., PhotoDoctor and Facial Flaws). And VideoWave offers a range of editing styles from automated CineMagic editing, to StoryBuilder storyboard editing, to multi-track Timeline editing.
There's also a separate Roxio Player application to play media files. EMC 7.5 now also supports the Media Center PVR file format so you can view and archive recorded TV shows.
Which brings us to music and audio capture and editing. EMC 7.5 adds several interesting new audio components and features, starting with the Easy Audio Capture utility. This captures from your sound card inputs (i.e., microphone in), of course, but also can capture audio playing out through your sound system. This means that it's now possible to capture transient audio such as streaming Internet music or radio.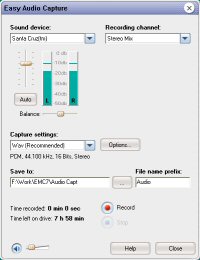 Easy Audio Capture utility
First hook up your audio source to your sound card, or start music playing with a media player application like Windows Media Player or Winamp. Then use Easy Audio Capture to select the sound device and desired output format, compression and bit rate. EMC supports the commercial Wave (PCM uncompressed), Windows Media (WMA), and MP3 audio file formats, plus Ogg Vorbis compressed and FLAC (Free Lossless Audio Codec). You can monitor the live audio, and manually tune the levels, or have them set automatically. Then click to start recording the audio to disk, with the option to limit the recording length to allow unattended use.
For capturing longer recordings with multiple tracks, fire up the new LP and Tape Assistant. You can set up recording as with Easy Audio Capture, but the new Assistant also helps split recordings into multiple tracks, and clean up the quality of analog recordings from older records and tapes.
LP and Tape Assistant
The first step is to record the collection of material. You need to hook up your audio source to your sound card, of course -- check the nice Help screens with connection diagrams if you have any problems. Also select the input device and adjust the recording level, and specify the desired audio file format. Then just start recording. You can manually pause recording between different tracks or to switch tapes, or click to set track markers. Even better, you can configure LP and Tape Assistant to automatically detect new tracks in the pauses between songs, and pause recording during long silences (when you flip over a record to play the other side).
Next, LP and Tape Assistant displays the captured waveform with the track markers. You can manually adjust the track breaks, and insert new track separators, though it would be helpful to be able to scrub though the audio to check these points. Once you have isolated the individual tracks, you can name them, apply a Fade between them, and switch to Track view to change their order.
To further improve your recording, apply the clean-up and enhancement filters. Use Clean to remove Clicks, Crackles, and Noise -- you can preview the playback while adjusting the filters, clicking between listening to the original and filtered sound, and even listen to just the difference being filtered out. Apply the Enhance filter to Excite or Bass boost the sound. And use the 10-band Equalizer to customize the sound, with presets for Bass, Treble, and Voice boost.
Finally, LP and Tape Assistant steps to the output / CD burning screen. You can choose the tracks to burn and reorder them, and also punch up the volume. You also can save individual tracks as audio files, or export your work to Sound Editor for further refinements.
The Sound Editor 7.5 waveform editor has been enhanced in EMC 7.5 to add a new Mix editor to combine multiple clips. You now can import audio files from disc or CD, or capture directly. Then edit each individual clip's waveform, splitting and trimming, adjusting volume and balance (including normalizing), enhancing and applying effects (including equalization). Finally, combine the multiple layers with different levels and cross-fades to create the final mix. You can then export individual clips or the full mix, and also burn the result directly to an Audio CD. There's also a new Track Detection feature to automatically or manually identify separate tracks in a longer audio clip.

Sound Editor 7.5
For access to more online music, EMC includes a built-in link to Napster. And for creating great-looking audio CDs, you can use the Label Creator utility to design disc artwork, including disc labels, case inserts, and booklets. EMC 7.5 also now supports LightScribe disc labeling technology, which uses new disc drives to not only burn the data side of discs, but also allows you to flip them over and laser-etch a silkscreen-quality label directly on supported discs.
So that's it -- the quick tour of the highlights of the new Easy Media Creator 7.5 suite. As you can see, Roxio and Sonic have packed EMC with a broad selection of tools for working with data discs, DVD, video, photos, and music. Some elements stand alone, like Disc Copier and CinePlayer, but for working with media files, the central editing tools -- PhotoSuite and VideoWave -- are well integrated with the separate Capture and Media Manager modules.
However, with so many components and modules there can be confusing overlap in capabilities, for example with several different ways to create photo slideshows on disc or to extract content from DVDs. The Home screen helps by listing the most often-used tasks and applications to help you get started. And you can roll out some of the more specialized utilities when you need them, like the DivX-to-DVD Creator.
The EMC applications share a similar, consumer-friendly look and interface that makes them easy to just pick up and use. The data tools also drill down to more advanced options, such as diagnostics with DVDInfo Pro and the bonus Backup MyPC 6.
Easy Media Creator works with Windows XP (service pack 1 or later) and Windows 2000 (service pack 4 or later), but not earlier versions of Windows. The full Easy Media Creator 7.5 suite is available on CD or as a download for U.S. $99.95, or $69.95 with a $30 upgrade/competitor mail-in rebate.
Roxio Easy Media Creator 7.5
www.roxio.com/en/products/emc75
Sonic Solutions
www.sonic.com