Manifest Technology Blog -- Site: | Articles | Galleries | Resources | DVI Tech | About | Site Map |
Articles: | PC Video | Web Media | DVD & CD | Portable Media | Digital Imaging | Wireless Media | Home Media | Tech & Society |
DVD & CD: | DVD & CD Articles | DVD Software Gallery | High-Def DVD Gallery | DVD Authoring Resources |

---
Video DVD Update: Formats and Products
(10/2001)
by Douglas Dixon
DVD Formats: Dash and Plus
Sony VAIO

DVD-R / DVD-RW
Panasonic - DVD-R / DVD-RAM - Third-Party DVD-R/-RAM

DVD+RW Alliance - HP - Verbatim - DVD+RW

Ulead - VideoStudio 5.0 DVD Edition
Pinnacle - Express & Impression DVD
MedioStream - neoDVD

DVD - Good and Bad - References
This year we can see the DVD format maturing to fulfill its promise as the next generation format for saving and sharing video productions. DVD offers much higher capacity than the familiar CD format, 4.7GB per side, while supporting the same broad range of uses, including record-once (like CD-R) and rewritable (like CD-RW) media, and applications for both video and data storage.
The potential of DVD had been limited by the expense and complexity of the format. But new products introduced at the beginning of 2001 saw DVD drives drop under $1000, DVD media dropping to around $10, and a wide range of options for DVD authoring software for both Mac and Windows, from beginner to professional, at prices stating under $100.
The second half of 2001 has seen a major expansion of DVD products beyond the initial developers, including new options for DVD drives, media, and integrated software tools, and new consumer electronics products such as DVD camcorders and set-top DVD-based video recorders. But this good news is tempered by one remaining issue: a format war between two competing factions of major consumer electronics companies.
The development of the various DVD formats has been driven by the DVD Forum industry consortium (www.dvdforum.com). The formats defined for consumer electronics use were DVD-Video for pre-recorded movies, and the newer DVD-Audio for music. The formats defined for PC use were DVD-ROM for prerecorded data, DVD-R for write-once recording, DVD-RW for re-recordable / rewritable media, and DVD-RAM for rewritable data storage (see the May and June C&CV).
DVD Video has been a great success, with the tremendous popularity of movies on DVD played on set-top DVD players. Similarly, DVD-ROM drives are becoming more common on PCs, both for playing movies and for large collections of data, and DVD-RAM has found a niche for data archiving and backup. Meanwhile, the new DVD-R drives and authoring software now permit not only video professionals but also PC owners to burn video productions to DVD-R discs that can be viewed on set-top DVD players.
These formats are also bridging between set-top and PC applications. The DVD-RW format was designed to support recording of streaming media, and is already in use in Japan in consumer video recorder devices. The DVD-RAM format has also been used in DVD camcorders and set-top video recorders.
However, an alternative rewritable format called DVD+RW has been defined by a group including Hewlett-Packard, Mitsubishi Chemical / Verbatim, Philips, Ricoh, Sony and Yamaha (www.dvdrw.com). The format has been through several redesigns before reaching a 4.7 GB format, and products based on it should finally ship this year.
The DVD+RW format ("DVD plus") is designed to support both real-time video recording and random data recording applications, i.e., to replace both DVD-RW and DVD-RAM ("dash"). It was also designed to be more compatible with existing DVD video players, supporting both video and data instead of introducing a separate format like DVD-RAM.
While it seemed that at least the industry could agree on DVD-R as a base compatible recordable format, the DVD+RW group has recently announced its own competing DVD+R format to further confuse the picture.
As a result, all the DVD formats have now been thrown open to a titanic marketing battle for control of the DVD standards, as opposing camps of major consumer electronics and PC companies develop new products and announce strategic partnerships based on their preferred formats. This turmoil can mean lots of interesting products and lower prices for consumers, but at the risk of making an investment in a DVD format that later dies away.
The first breakthrough in DVD pricing came in January 2001 with the new Pioneer DVR-103 recordable DVD/CD drive at under $1000 (www.pioneerusa.com). This drive was bundled by Apple in new Power Mac G4 systems and by Compaq with the Presario 7000 PC. Apple also introduced two new DVD authoring tools, the introductory iDVD (bundled) and the more professional DVD Studio Pro ($999, www.apple.com/dvd). A similar range of DVD authoring software is also available for Windows, such as Spruce Technologies (WAS www.spruce-tech.com) and Sonic Solutions DVDit! (www.sonic.com).
In May, Sony introduced a new VAIO Digital Studio PC with both a TV tuner and Pioneer DVD-RW for built-in video recording (www.sony.com/vaio). The PCV-RX490TV Giga Pocket Personal Video Recorder systems can be used to watch TV, record TV to the hard drive, access a free iEPG (Internet Electronic Program Guide) service, edit movies with the Sony MovieShaker software, and author to DVD with DVDit! software.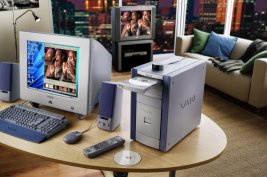 Meanwhile, Panasonic has been driving the development of the DVD-RAM format, which has been shipping in quantity for several years as PC data storage format (www.panasonic.com). In April, Hitachi also introduced the DZ-MV100A DVD-RAM camcorder ($2,000 list) that records on half-size 8 cm DVD-RAM media (www.hdal.com). The small disc has 60 minutes of recording capacity in high-quality mode and 120 minutes in standard mode, and can be played back on set-top of consumer DVD-RAM drives.
In June, Panasonic introduced a combination DVD-R/-RAM computer drive and a family of DVD-RAM consumer electronics products. The Panasonic DVDBurner combination DVD-R/-RAM drive is shipping to OEM customers, and will be available at retail in October for under $600, including authoring software.
The Panasonic DVD consumer electronics products include a DVD-RAM camcorder, a DVD-RAM video recorder, progressive scan DVD-Audio/Video players, and a portable DVD-RAM player. The VDR-M10 DVD camcorder ($2,499 list) records video and still images onto removable 8 cm DVD-RAM discs, which means instant access to recorded scenes instead of rewinding and searching through a tape.
The DMR-E20 DVD Video Recorder acts as a combination DVD player and VCR, with a choice of 1 to 6 hours recording time per side at different picture quality modes. Unlike a tape recorder, each recording you make is listed in a program index, so you can jump directly to a specific program, organize them into a playlist, and delete individual programs. The recorder also offers a "Time Slip" function for simultaneous recording while playing a different section of the disk. It will be available in October for $1,499.
The DVD-RAM media cannot be played on existing set-top DVD players or DVD-ROM computer drives. It can be played on the new DVD-Audio/Video players, and the DVD-LA95 portable DVD player, due in October for $1299. It can also be played on other DVD-RAM computer drives.
LaCie introduced an external Firewire / IEEE 1394 DVD-R/RW and CD-R/RW drive in June, starting at $995 (www.lacie.com). The hot-pluggable drive supports Mac, Windows 98se/2000, and Linux 2.4. LaCie also has announced an external FireWire DVD-R/-RAM drive, availabe in July for Mac and PC starting at $695.
QPS has introduced the Que! Multi-Drive DVD-R/-RAM and SuperDrive DVD-R/RW and CD-R/-RW drives (www.qps-inc.com). The SuperDrive is available as an external drive, and both are also available as external drives with a Firewire / IEEE 1394 or the new USB 2.0 (480Mbps) interface.

The DVD-R/-RW/-RAM formats are also supported by third-party drive and media manufacturers. Blank media is available from Panasonic, LaCie, Maxell (www.maxell-data.com), and Optodisc (www.optodisc.com), at prices around $25 for single-sided 4.7GB DVD-RAM and $35 for double-sided 9.4GB discs.
Meanwhile, the DVD+RW Alliance is expanding its ranks and starting to release the first products based on the DVD+RW format. New supporters include Thomson Multimedia, manufacturer of RCA entertainment products, Oak Technology, and Dell.
The DVD+RW format is designed to provide a universally compatible, rewritable DVD format that enables true convergence between personal computing and consumer electronics products. The format can be used for PC video authoring, PC data storage, and consumer electronics video recording and playback. In addition, DVD+RW discs written on a DVD+RW recorder are designed to be read and played on the majority of existing and future DVD-Video players and DVD-ROM drives.
In particular, the Alliance has demonstrated prototype DVD+RW recorders that automatically create a visual index of each program on the disc, so that it can be immediately played on a set-top DVD video player using a convenient visual program index.
Hewlett-Packard has announced the HP DVD-Writer DVD100i internal IDE DVD+RW drive that reads and writes DVD+RW and CD-R/-RW media (www.hp.com). The drive can be used under Windows for authoring video productions, or as a drag-and-drop data disk. It is scheduled to ship late summer 2001 and be priced under $1,000.
HP also has announced plans to incorporate DVD+R/RW drives into its HP Pavilion home PCs. These are expected to be available in the fall.
Verbatim Corporation also announced that it will be shipping 4.7GB DVD+RW media in the fall, for about $20 for single-sided 4.7GB discs (www.verbatim.com).
As DVD burners and media are becoming more available and less expensive, DVD authoring software is also becoming easier to use and more integrated with other video tools.
Ulead, makers of the consumer VideoStudio 5.0 and professional MediaStudio Pro 6.0 video editing tools, created a DVD Plug-in ($39 download) as a DVD authoring tool add-on for both tools (www.ulead.com). Ulead now offers the VideoStudio 5.0 DVD Edition as an integrated easy-to-use video editor with DVD authoring capabilities. VideoStudio can create video files in DV and MPEG-2 format and popular Web video formats (QuickTime, RealNetworks, and Windows Media).
VideoStudio 5.0 DVD Edition can also create Video CD (VCD), Super Video CD (SVCD) and DVD format movies, and write them to CD-R/RW and directly to DVD-R (available soon). VideoStudio 5.0 with DVD is available for $119 for download or $129 for retail box.
Pinnacle Systems has announced two products for DVD authoring (www.pinnaclesys.com). Pinnacle Express captures DV video from a FireWire / 1394 interface, and automatically detects scene changes and creates scene index menus. You can then trim, split, combine, delete, or re-order the scenes, and add titles and menus. You can then compress the video and burn it to a CD-R/-RW in VCD or SVCD format or to a DVD-R/-RW/+RW recorder. Express will be available in the summer or fall of 2001 for around $129.
Pinnacle also announced Impression DVD 2.1, an enhanced version of its timeline-based professional authoring software for creating interactive CD and DVD titles under Windows. Designed for video editors, Impression DVD integrates DVD authoring, including chapter and menu creation, with timeline video editing. Impression DVD 2.1 is expected to ship in early summer for $995.
MedioStream has also announced neoDVD, a two-click end-to-end simple DVD authoring tool for Windows (www.mediostream.com). The MedioStream CAMpeg product offers real-time DV capture and conversion to MPEG-2 compressed video format (see the July C&CV). neoDVD goes further, to create DVD-ready files from a live DV source in real-time. A home camcorder user can then capture DV clips to hard disk in one step, and then immediately burn it to CD or DVD, without any additional authoring or conversion step. neoDVD also supports input from AVI, QuickTime, DV and MPEG-2, and supports basic trim editing and editable DVD menus.
The neoDVDstandard OEM version was scheduled to be released in mid-July, followed by the consumer release in mid-August for $149, or $99 promotional price. The consumer release will add video capture, VCD support, audio track editing, basic transitions, and titles.
An upgrade, neoDVDplus, is scheduled for December for $249. It will support capture from analog video and still images from video, the ability to personalize the video with advanced audio mixing and editing, and real-time burning of RW discs.
The good news about DVD is the availability of a growing range of products for PC and consumer home entertainment use, including third-party support for drives and media. This promises more choice and lowering prices for consumers, particularly as DVD hardware and media production ramps up to consumer electronics kids of volumes.
The bad news is the prospect of a long drawn-out format war, in which consumers are forced to choose sides, resulting in compatibility conflicts and the potential of investing in a format that becomes obsolete in a few years.
The DVD Forum DVD-R/-RW/-RAM "dash" group is currently out in front, with a history of real shipping products and the ability to drive prices lower with larger volumes. In particular, the DVD-R format has been used successfully for several years by video professionals and now on the desktop. DVD-RAM also is very well designed for data archiving applications, since it incorporates error correction and defect management technology, and can be written over 100,000 times (compared to 1000 times for the RW formats).
However, this approach does result in the confusion of three different formats, and the DVD-RAM format is significantly different from the others, meaning it is incompatible with existing set-top and PC drives, and requires additional hardware and cost to build in compatibility in future players.
The DVD+RW Alliance "plus" group has been through a long period of redefining the format, and is just beginning to offer products. It offers the promise of a consistent and compatible DVD+RW rewritable format, usable for both video and computer data, but at the cost of obsoleting existing equipment. Even worse, the Alliance recently defined a write-once DVD+R format that simplifies the hardware design slightly, but destroys the hope of at least converging on the existing DVD-R format.
Meanwhile, the software developers are working to add DVD support to existing video editing tools, and to provide a wide range of options for simplified transfer of video to DVD.
For all the gory technical detail about the DVD formats, see the DVD FAQ (Frequently Asked Questions), by Jim Taylor, author of "DVD Demystified" (McGraw-Hill, December 2000) at www.dvddemystified.com.
DVD Forum
www.dvdforum.com
DVD+RW Alliance
www.dvdrw.com