Manifest Technology Blog -- Site: | Articles | Galleries | Resources | DVI Tech | About | Site Map |
Galleries: | Video Editing Software | DVD Authoring Software | Cameras | Camcorders |
| Media Players - iPod / iPhone | Handheld Devices | Mobile Comm - Smartphone Apps |
| Portable Storage | Audio Accessories | Power Accessories | Peripherals |

---
Consumer Digital Photo Cameras Gallery - OLD
Photos beyond megapixels - Historical
by Douglas Dixon
---
The 2000s Mobile Digital Revolution:
Cell Phones to Smartphones, Walkman to Media Players, CD to Flash to Web Services
Historical perspective on some interesting technology and trends in digital home media.
They include some sample products illustrating these trends.
Information and pricing are summarized from public sources as of when they were added,
and may be incorrect or out of date.
Digital Camera Trends
Megapixels, interfaces, smarts
HD DSLRs - Photo + video

Sample Digital Cameras
Apple QuickTake
Nikon - D90 with HD video
Canon -
Fujifilm - Fujifilm FinePix Real 3D W3 -- 3D Digital Camera - Face detection
Kodak - Dual lens
Panasonic - LUMIX waterproof
Samsung - DualView
Sony - DSC-G3 Wi-Fi

Photo Printers
Dell Wasabi
Polaroid PoGo Camera / Photo Printer

Photo Accessories
Lenses - Lensbaby
Wireless - Eye-Fi
Tripods - Gorillapod, SteadePod, monopods
Studio / Lighting
Digital Photo Frames - Parrot




See also:
Consumer Digital Video Camcorders Gallery -- HD video: Tape, Disc, Hard Disk, Flash
Portable Power Accessories Gallery -- Batteries, chargers, adapters
Portable Storage Gallery -- Cards and drives, Flash and hard disk

Find related Digital Camera / Photography articles in the Manifest Tech Blog
---
---
Digital Photo Cameras Trends - Holiday 2009
---
Beyond Megapixels
End of line for "Megapixel war"
Lens and sensor more important than raw megapixels
Though more megapixels allow crop / zoom in image
Inexpensive consumer cameras reach 6 - 8 - 10 megapixels
(1 MP = 1000 x 1000 pixel resolution)
Breaking the Myth of Megapixels - David Pogue
www.nytimes.com/2007/02/08/technology/08pogue.html
5 - 6 MP: plenty for 11 x 14 inch prints (larger than most home printers
3 MP: plenty for normal prints, 4 x 6 and even 5 x 9
4 to 5 MP: OK for full-page 8 x 10 images.
PC display resolution of 1280 x 1024 is 1.3 MP,
HDTV display highest resolution of 1920 x 1080 is only 1.7 MP
Larger LCD Displays -- Touchscreen
Preview and review large images
Better access to menus
Larger display squeezes out viewfinder and dedicated controls
Auto-brightness adjustment
Smaller and Stylish -- Smaller Lens
Fewer controls
Smaller lenses pop out from camera body, fold optics internally
Larger lens focuses better images, gathers more light in dim environments, longer zoom
Longer Zoom -- Optical
3X - 10X optical zoom (real zoom, not lower-res digital zoom)
Image Stabilization
Optical image stabilization - adjust lens, not digital
Help steady small cams for handheld use
Also extends ISO for low light
Digital Enhancements -- Exposure
Image / photo processing engine
Intelligent ISO raises ISO and shutter speed
"Burst" shooting modes: multiple shots of fast action in one click
Bracketing exposure, with and without flash
Flash adjustment: vary intensity
Dual Shot: with and without flash (Fujifilm)
letting user decide best picture.
Real Photo technology. 6th gen FinePix Super CCD-HR chip and the RP processor
ISO settings of up to 2000, even in low light preserving natural color and clarity
Intelligent-Flash: vary flash intensity for available lighting (Fujifilm)
Digital Enhancements -- Face Recognition & Beyond
Red-eye reduction in camera
Face Detection: up to 10 faces, set focus and exposure, enhanced playback zoom
Face Recognition
Smile detection
GPS: Tag / organize photos by location
Video Clips
Higher resolutions: HD, full 30 fps
Larger, faster memory cards -- SDHC
Zoom while shooting video
Still photos while shooting video
VIdeo / HD DSLR - Nikon D90, Canon, Panasonic ...
Wireless - Upload / Share Online
Eye-Fi - Wi-Fi-enabled SD Card for Digital Cameras
Transfer photos wirelessly, from digital cameras to home computers and online
Home network to computer, online photo sharing; Hot Spots, Geotagging
See also:
---
Digital Camera Market / Best-Selling Brands
The CEA projects healthy 48 percent growth for digital camera, from both new users and upgrades of older cameras
4/07 - IDC - worldwide digital camera shipments
2006: Canon 18.7%, Sony 15.8%, Kodak 10%, Olympus 8.6%, Samsung 8%, Nikon 7.6%
2005: Canon 17.4%, Sony 15.2%, Kodak 14.2%, Olympus 9.8%, Nikon 7.9%, Samsung 4%
1/07 - IDC, shipments to retail, market share (Include digital SLRs)
Canon 20%, Sony 17%, Kodak 16%, Nikon 10%, HP 7% (Kodak top prev. year)
Casio, Samsung, Panasonic doubled shares from prev. year
1/07 - NPD, retail sell-through, unit volume, market share (Include digital SLRs)
Kodak 19%, Canon 18%, Sony 12%, Nikon 7.5%, HP 5%
---
HD DSLRs - Digital SLR also shoots high-def video
---
Digital SLR camera also shoots video clips - "Video" or "HD" or "Hybrid" DSLR
Live View mode, mirror flips away
Monitor scene directly on LCD display on back of camera
Benefits for shooting video

Take advantage of DSLR lenses - glass
Control focal length and depth of field
Larger image sensors, high ISO ranges to shoot in low light situations
Shoot video unobtrusively and in difficult environments

Disadvantages vs. video cameras

Primarily designed for still photography, not for studio or event video
Shoot short clips, around five to ten minutes
Video modes do not have full capabilities of photographic modes
Limited manual control, limited auto focus or exposure options
Omit built-in stereo mics

For photographers: Comfort of using familiar equipment

Consolidate gear, bring broader selection of lenses and accessories
Add new format: shoot video / audio for multimedia productions
---
Canon HD DSLRs

First HD DSLR Products
9/08 - Canon 5D Mark II DSLR

21 MP, Full HD 1080p/30 24-105mm kit lens ~ $2700
12 min HD, 24 min HD continuous record 4GB card

3/09 - Canon Rebel T1i DSLR
9/09 - Canon 7D DSLR

18 MP, Full HD 1080p video 24/30; semi-pro ~ $1700

10/09 - Canon EOS 1D Mark IV DSLR

16 MP, 10 fps, HD Shooting, Extreme ISO $5K body ~ $5000
Canon Formats
Record movies up to 1920 x 1080 resolution

at frame rates of 24 (23.976), 25 or 30 (29.97) frames per second

Also record HD at 1280 x 720 (50/60 (59.94) fps), SD/VGA at 640 x 480 (50/60 (59.94) fps)
Save movies as MOV files, can view in Full HD with HDMI output
Record up to 4 GB per clip - 12 min. Full HD video, 18 min. 720p HD, 24 min. SD
Canon References and Sample Work
Canon USA - www.usa.canon.com
Canon USA - EOS DSLR Cameras - http://usa.canon.com/eos
Canon Digital Learning Center - www.usa.canon.com/dlc
Canon Live Learning: Photography Workshops and Classes
Explorers of Light Gallery

Influential photographers share their photographic passions and technical expertise

Bob & Dawn Davis - Wedding and Portrait Photography
Vincent Laforet - New York Times photographer; commercial, editorial, and portrait
---
Nikon HD DSLRs

First HD DSLR Products
8/08 - Nikon D90 Digital SLR Camera

12.3 MP, 720p HD, 24fps D-Movie Mode, Live View ~ $900

4/09 - Nikon D5000 Digital SLR Camera

Entry-level digital SLR ~ $679
12.3 MP, 2.7-in. Vari-angle monitor, D-Movie capability, expanded Scene Modes

7/09 - Nikon D300s Digital SLR Camera

Flagship DX-format digital SLR ~ $1,699
12.3 MP, enhanced D-Movie, external stereo mic, SD & CF card slots

10/09 - Nikon D3s Digital SLR Camera

Flagship FX-format digital SLR, fast response, high light sensitivity ~ $5,199
12.1 MP, ISO 200 to 12,800, more rugged, bigger, heavier
Nikon Formats
D-Movie records movies up to 720p (1280 x 720) [280x1024 on the D3s], at 24 fps
Also record HD at 1280 x 720, SD at 640 x 424, 320 x 216
Save movies as Motion JPEG format
Record up to 2 GB per clip - 5 min. HD video, 20 min. VGA
Nikon References and Sample Work
Nikon USA - www.nikonusa.com
Nikon USA - Digital SLR Cameras
Nikon DSLR Comparison (PDF)
Nikon Product Info
Nikon USA - Learn & Explore
Nikon Learn & Explore iPhone app - Nikon USA educational and editorial content
Bill Frakes - Sports Illustrated Staff Photographer; editorial and advertising
Ami Vitale - Photographer, cultural photojournalism - www.amivitale.com
Noah Harald - Director, Videographer - www.noahharald.com
---
Sensors
FX sensor - roughly size of 35 mm film frame, 23.9 x 36 mm
DX sensor - smaller, 15.8 x 23.6 mm )for smaller, lighter cameras)
DX sensor covers smaller portion of the image projected by the lens

Introduces 1.5x crop factor (compared to 35mm film frame)
i.e., 24mm lens on DX sensor camera provides approximate 36mm view

FX sensor has more light gathering area, so has higher sensitivity and generally lower noise
Full-frame sensors do not require a focal length conversion factor

Provide greater control over depth of field
---
---
Apple - QuickTake 100 - 1st Consumer Color with Home Computer (1994)
First consumer digital camera ...

Color, under $1000, work with home computer

Binocular-shaped
640 x 480 CCD (0.3 Mpx), 24-bit color
8 mm Lens, 50 mm / 35 mm equivalent, f/2.0 to f/16
Shutter speed 1/30 to 1/175 of a second
Built-in flash, no focus or zoom
Store 8 photos at 640×480, 32 at 320×240, or mixture of both
No image preview screen
Trash button to delete entire contents, cannot delete individual photos
RS-232C - connect to any Macintosh computer using Apple serial cable
Image format - QuickTake, PICT
1 MB Flash EPROM Memory
Manufactured by Kodak
~ 12 x 8.6 x 4 in, 2.6 lbs
$749
Apple QuickTake 150 (5/1995)
QuickTake, BMP, JPEG, PCX, TIFF (150, 200)
RS-422, RS-232C
Separate close-up lens - focus at ~ 30 cm
Connection kit for Microsoft Windows
Factory upgrade option from 100
$700
Apple QuickTake 200 - SmartMedia (2/1997)
Added focus and aperture controls
Added SmartMedia - 2 or 4 MB 5 V card
Shutter 1/4 to 1/5000 of a second
Interface RS-232C, NTSC Video I/O
Manufactured by Fujifilm
$600
---
Nikon - Sample Digital Cameras
---
Nikon D90 Digital SLR Camera with HD Video (8/08)
12.3-megapixel DX-format CMOS imaging sensor
Nikon EXPEED image processing technologies
NIKKOR optics and interchangeable lenses
Low noise ISO Sensitivity: Lo-1 (ISO 100 equivalent) to Hi-1 (ISO 6400)
Nikon F bayonet mount, Pop-up flash i-TTL control, External flash shoe
3-inch LCD monitor, 920,000-dot color, 170-degree wide viewing angle
Thumbnail display (4, 9, 72), Pictmotion slideshows
D-Movie Mode - Cinematic 24 fps HD video with sound
up to 720p HD (1280 x 720 pixels) in Motion JPEG format
http://chsvimg.nikon.com/products/imaging/lineup/d90/en/d-movie/
Continuous shooting 1 - 4.5 fps
Fast 0.15 ms power-up, 65 ms shutter-release time lag
GPS geo-tagging: GP-1 GPS unit (optional), real-time geo-tagging
Images: DX-format - 4,288 x 2,848 [L], 3,216 x 2,136 [M], 2,144 x 1,424 [S]
Shutter speed: 30 sec. to 1/4000 sec. in steps of 1/3, 1/2, 1 EV
Photo format: NEF (RAW) - Compressed 12-bit
JPEG - Baseline compliant, Size priority or Optimal Quality
Fine (approx. 1:4), Normal (1:8), Basic (1:16)
NEF (RAW) + JPEG: Single photograph in both NEF and JPEG formats
Video format: AVI, Motion-JPEG compressed, with monaural sound
HD 1,280 x 720/24 fps, VGA 640 x 424/24 fps, QVGA 320 x 216/24 fps
Storage Media: SD, SDHC (NEF (RAW) = 10.8 MB, 133 / 2 GB card
(JPEG basic = 1.5 MB, 1000 / 2 GB card, JPEG fine = 6.0 MB, 271 / card

Find the Nikon D90 Digital SLR on Amazon.com
Nikon 3D Color Matrix Metering II with Scene Recognition System
Introduced on the D3 and D300 for exposure accuracy
Auto exposure, Auto focus, i-TTL control, White balance, Face Detection
Auto zoom on faces during playback
Autofocus system with 11 areas/points, Face priority
One-button Live View: Access 3 contrast detection focus modes
Shoot effectively without looking through the viewfinder
Face priority AF, Wide area AF, Normal area AF
Comprehensive exposure control: Five advanced scene modes
plus Program Auto, Shutter Priority, Aperture Priority and Manual.
Exposure Modes, Scene Modes, Shutter Release Modes, Exposure Bracketing, White Balance Bracketing
Auto Active D-Lighting: Selectable and Automatic
Optimizes high-contrast details within shadows and highlights
In-Camera Image Editing & retouch: Fisheye effect, Straighten and Distortion Control,
D-Lighting, Red-eye Reduction, Image Overlay, Monochrome
Picture Control System: Standard, Vivid, Neutral, Monochrome, Portrait, Landscape; Quick Adjust
http://imaging.nikon.com/products/imaging/lineup/picturecontrol/
Nikon ViewNX photo browsing and editing software, Windows and Macintosh
Nikon Capture NX 2 non-destructive photo editing software
Camera Control Pro 2 remotely operate and adjust most of the D90 settings
Transfer to Nikon's my MyPicturetown.com site: NEF (RAW), JPEG, MOV, AVI
Built-in image sensor cleaning: 4-frequency, ultrasonic sensor cleaning
Lithium-ion Battery, 850 shots per charge
Interface: Hi-speed USB, NTSC, HDMI
5.2 x 4.1 x 3.0 in. (132 x 103 x 77 mm), 22 oz. (620 g)
9/08 - $999
PR - August 27, 2008 - Digital SLR Camera Nikon D90
www.nikon.com/about/news/2008/0827_d90_01.htm
Product information - www.nikonusa.com/Find-Your-Nikon/Product/Digital-SLR/25446/D90.html
Next: Samsung
---
Canon - Sample Digital Cameras

---
Fujifilm - Sample Digital Cameras - Face Detection
www.fujifilmusa.com
"IR Simple" short-distance, private communication
---
Fujifilm FinePix Real 3D W3 -- 3D Digital Camera (9/10)




3D Digital Camera - 3D and dual 2D shooting modes

Capture high-resolution images in 2D and 3D
Record HD 3D movies (720p resolution)

Two 10-megapixel CCD sensors. 1/2.3-inch

Fujinon 3x optical zoom lens, F3.7 (Wide) - F4.2 (Telephoto)
Focal length f=6.3 - 18.9mm, 35mm camera equiv. 35 - 105 mm

3.5-inch widescreen Autostereoscopic 3D LCD, Approx. 1.15 M dots

Displays images and movies in 3D, no glasses required

3D parallax adjustment control
2D Dual Shooting modes

Take two shots at the same time to capture the same scene
with different colors, different zoom lengths, different sensitivities

Mini-HDMI 1.4 output jack to display on compatible 3D HDTV
SD/SDHC memory card slot
Durable stainless steel construction, precisely balanced optical axis
4.9 x 2.6 x 1.1 in. (124.0 x 65.9 x 27.8 mm), 8.5 oz (250 g) with battery
Finepix 3D - http://finepix.com/3d/en/index.html
8/10 - $499

Find the Fujifilm FinePix Real 3D W3 on Amazon.com
Lenticular 3D display - sheet - icroscopic concave lenses produce binocular disparity

Rows of convex lenses create binocular parallax effect with less cross-talk and flicker

Still images: Simultaneously record both MPO format (3D) and JPEG (2D)

Multi-Picture (MP) format standardized by CIPA, uses JPEG
4:3, 3:2, 16:9 max 3584x2016, 72 dpi, 24 bit

Videos: 3D-AVI - AVI multimedia container format

Video max 1280x720, 16:9, 24 fps, ~49 mbps; Audio PCM 16-bit 1500 kbps

Prints via Fujifilm SeeHere.com photo printing, gifting, and sharing website

3D prints with lenticular technology, $6.99 for 5x7 in. print

MyFinePix Studio software for Windows

Edit / convert 3D photos and movies

Step up from predecessor FinePix REAL 3D W1 (9/09)

High-res 3D photos and movies in 3D HD at 720p
Widescreen 3.5" LCD, Mini HDMI port
---
Fujifilm FinePix F40fd - 8MP - Face Detection (OLD - 3/07)
Compact, highly portable and stylish
2.5 inch LCD
ISO settings of up to 2000, even in low light preserving natural color and clarity.
Real Photo technology. 6th gen FinePix Super CCD-HR chip and the RP processor
Picture Stabilization mode. reduce "blur" effect from photographer hand-shake
Adjusts for subject movement, compensates for low light shooting
Intelligent-Flash system, 'i-Flash'
Detects subtle lighting differences within scene, varies flash intensity
Use less flash, prevent 'blasted with light' effect, no flash 'wash-out'.
Dual Shot Mode, take two shots in rapid succession, with and without flash
user reviews for best picture.
Face Detection Technology
Hardware proprietary dedicated LSI chip,
Detect up to 10 human faces in a scene in as little as 5/100's of a second
Sets correct focus and exposure automatically
OK with off-center subject faces, low light situations, backlit conditions
Enhances playback zoom in on each detected face check eyes open and smiling
3/07 - $299, 9/07 - $199

Find the Fujifilm FinePix F40fd camera on Amazon.com
---
Kodak - Sample Digital Cameras - Dual Lens
www.kodak.com
Kodak EasyShare V610 Dual Lens Digital Camera (OLD - 06)
6.1 MP, 2.8 inch display, pocket-size
10X optical zoom range: switch between two lenses
Warns if shot out of focus
Bluetooth to share pictures wirelessly, to mobile phones.
06 - $300

Find the Kodak V610 camera on Amazon.com
---
Panasonic - Sample Digital Cameras - Waterproof
---
Panasonic Interchangeable 3D Lens (9/10)
Panasonic also has introduced interchangeable lenses for its Mirror-Free DSL Micro Cameras. Instead of requiring a separate 3D camera, this includes two lenses within the screw-in lens mount as an adapter to convert a standard camera into a stereo imager.
3D LUMIX G 12.5mm / F12 (H-FT012)
3D Internal Twin Lens System Lens
Two optical systems within diameter of lens mount

Creates stereo images from left and right lenses
To be processed with 3D image processing system

Internal twin fixed lenses and diaphragms (F12)
Micro Four Thirds mount
Works with Panasonic DMC-GH2S, DMC-GH2K
Mirror-Free DSL Micro Cameras
9/10 - $249
Find the Panasonic 3D LUMIX Lens on Amazon.com
---
Panasonic LUMIX DMC-TS1 - 12MP, Rugged, HD video (due 4/09)
Waterproof, shockproof, dustproof digital camera with AVCHD Lite High Definition (HD) video recording
12.1 megapixels, 28mm wide-angle LEICA DC VARIO-ELMAR lens, 4.6x optical zoom
Airtight body, rubber padding, reinforced glass, waterproof to depth of 10 feet, shockproof from falls up to 5 feet
iA (Intelligent Auto) mode for stills and video
Optical Image Stabilization (O.I.S.) and Optical Zoom also for video
Face Detection adjusts focus, exposure, contrast, skin complexion on face
Intelligent Exposure continually adjusts exposure setting for ambient light level
Intelligent Scene Selector automatically switches between Normal, Portrait, Macro, Scenery, Low Light modes
Wind Cut function block outs most noise from background wind
iA for stills: adds Face Recognition - "remembers" faces from previous shots, up to 340 shots (CIPA) per charge
register face to prioritize focus and exposure
Fast response: starts up in 1.3 seconds, shutter release time lag approx. 0.005 seconds
Flash Burst mode for consecutive shots with continuous emissions of flash
New Panorama Assist scene mode with on-screen guide to align vertically or horizontally
PanoramaMaker creates panoramic images
Increased Scene modes for still and video shooting - 26 scene modes still image, 17 motion image
LED Illumination available for video recording
High-Speed Burst (Speed Priority) fires approximately 10 shots per second
Menus are clearer and easier to navigate with Display Size option
Software: PHOTOfunSTUDIO 3.0 HD Edition - Photo organizing with Face Recognition
Video upload, view, trim, edit, archive, burn to DVD, convert to MPEG2, uploaded directly to YouTube
CCD Sensor 1/2.33-inch , 12.1 Megapixels Effective Pixels
LEICA DC VARIO-ELMAR Lens, 10 elements in 8 groups, Optical Image Stabilizer
Aperture F3.3 - 5.9 / 2-Step (F3.3 - 11 (W) / F5.9 - 18 (T))
Optical Zoom 4.6x, Extra Optical Zoom (EZ) 5.6x (4:3 / 8M), 7.2x (4:3 / 5M), 9.0x (under 3M)
Focal Length f=4.9-22.8mm (28 mm wide to 128 mm telephoto in 35mm equiv.)
Shutter Speed 8-1/1300 sec (Selectable minimum) Starry Sky Mode : 15, 30, 60sec.
Still Image format: JPEG (DCF / Exif2.21), Image with Audio: JPEG + QuickTime
Motion picture: AVCHD Lite, QuickTime Motion JPEG
Video: 4:3 VGA: 640 x 480, 30 fps (Motion JPEG), QVGA: 320 x 240, 30 fps (Motion JPEG)
16:9 WVGA: 848 x 480, 30 fps (Motion JPEG)
HD Movie 1280x720, 60P (AVCHD Lite, SH: 17Mbps / H:13Mbps / L:9Mbps ) / 30fps (Motion JPEG)
Stills: 4:3 - 4000 x 3000 (12M) to 640 x 480 (0.3M EZ)
3:2 - 4000 x 2672 (10.5M) to 2048 x 1360 (2.5M EZ)
16:9 - 4000 x 2248 (9M) to 1920 x 1080 (2M EZ)
Interface: HDMI (mini), USB2.0 High speed AV Output NTSC model (NTSC) / DC Input (requires Multi Conversion Adapter DMW-MCA1*)
98.3 x 63.1 x 23.0 mm (3.87 x 2.49 x 0.91 in), Approx. 162.5g (0.36 lb), 183.8g (0.41 lb) with Battery and SD Card
Available April 2009, $399, silver, green, orange

Find the Panasonic DMC-TS1 camera on Amazon.com
---
Samsung - Sample Digital Cameras - Dual View, Wi-Fi
www.samsungcamerausa.com
---
Samsung DualView TL220 / TL225 Digital Camera (due 9/09) - Front LCD
DualView Camera with a 1.5" front LCD screen - tap to activate
Self Portrait to capture yourself in scene
Child Mode built-in "watch the birdie" animations,
Countdown Timer, Shutter Info, Function Info
Touch screen interface - Haptic vibration response,
Gesture input, Tilt sensor to select commands
Front Display : 1.5" (3.8cm) 61K TFT LCD
Main Display: TL225 - 3.5" Wide 1,152K Full Touch TFT LCD
Main Display: TL220 - 3.0" Wide QVGA (230K) Full Touch TFT LCD
12.2 Mega-pixel CCD, 1/2.33" (approx. 7.79mm) sensor
4.6x optical zoom
27mm wide angle lens, Schneider-KREUZNACH Lens, f = 4.9 ~ 22.5mm (35mm film equivalent : 27~124.2mm)
Dual Image Stabilization: Optical + Digital
One Touch Shooting, Smart Face Detection / Recognition
Smart Auto: 14 preset modes, or manual
Smart Album: Organize images - Favorite, Face, Color, Content
Still Image: JPEG (DCF), EXIF 2.21, DPOF 1.1, PictBridge 1.0
12M 4000X3000, 8M 3264x2448, 5M 2560X1920, 3M 2048x1536
1M 1024x768, 9M W 3840 x 2160, 2MW 1920x1080, 10M P 3984 x 2656
Video Recording: H.264 (MPEG4.AVC) video, AAC audio, Max 20 min.
720p - 1280x720 (30/15fps) High Quality, 1280x720 (30/15fps) Standard,
SD - 640x480 (30/15fps), small - 320x240 (60/30/15 fps)
Voice Recording: Max. 10 hours, Voice Memo in Still Image max. 10 sec.
Internal Memory: About 55MB, External: Micro SD/SDHC, up to 8 GB
AV output: NTSC, PAL; mini-HDMI 1.2 [TL225]
Stripe of color on side: Black, red, blue
3.93 x 2.35 x 0.73", TL225 0.365 lbs., TL220 0.328 lbs. (w/o battery & card)
TL225 - 3.5" display, HDMI Output - $349
TL220 - 3.0" display - $299

Find the Samsung TL220 and TL225on Amazon.cpm
---
Samsung CL65 Digital Camera (due 9/08) - Wi-Fi, DLNA, Geo-tag
Connectivity: Wi-Fi & Bluetooth 2.0, Home DLNA, GPS geo-tagging
Touch-screen user interface, Haptic feedback, Gesture interface
9/09 - $399
Wi-Fi: Send via email, upload directly to Facebook, Picasa, YouTube, touch-screen QWERTY keypad
DLNA (Digital Living Network Alliance): Display on home HDTV, CE devices (max 2 MP)
Bluetooth 2.0: Beam to mobile phones, automatically resize
GPS Geo-Tagging: Use on sites like Picasa to link to maps,
camera displays city name, stored in EXIF file
3.5" LCD, 1,152,000-pixel touch-screen
12.2 mega-pixel CCD
5x Optical Zoom
Schneider-KREUZNACH Lens
Dual Image Stabilization: Optical + Digital
Smart Touch Auto Focus, Smart Auto, Smart Album
Smart Face Recognition (up to 20 faces), Face Detection, Smile Shot, Blink Detection
Movie Mode 720p HD, 30 fps / H.264 Format
Optional HDMI adapter
99.8mm x 60.8mm x 18.9mm
---
Samsung TL320 Digital Camera (4/09) - 12 MP, 3" OLED screen
12 MP, 24mm ultra-wide angle Schneider lens
5x optical zoom, while recording
3" AMOLED screen, 460,000-dot HVGA
Brighter display, can easily be viewed outdoors, even in direct sunlight
Less power than traditional TFT-LCD, higher contrast ratio of 10,000:1
Darker black levels, more vibrant colors, view at any angle
HD 720p video recording, HDMI through cradle to view on HDTV
H.264 compression
Optical Image Stabilization, plus Digital
Aperture or shutter priority, full manual shooting
Advanced Picture Mode adjust color temperature from 2,800-10,000K
Smart Auto - 11 scene modes
Smart Album - organize and search images - date, color tone, portraits
Face Detection (9 faces), Blink Detection (2nd shot if blinked), Smile Shot
Beauty Shot (enhance and balance skin tones, remove blemishes)
Brushed stainless steel finish, compact form factor
two retro look analog dials on top: battery and memory status
~ 4/09 - $379

Find the Samsung TL320 on Amazon.cpm
---
Sony - Sample Digital Cameras - Wi-Fi
www.sonystyle.com
---
Sony DSC G3 Cyber-shot Wi-Fi Digital Camera - 10 MP, 4x zoom, 3.5" touch panel (1/09)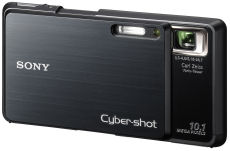 Connect to Internet via wireless access points, public hotspots with built-in Web browser
Upload to photo and video Web sharing sites
1/09 - available in black for $499.99
10.1 megapixel, 1/2.3" Super HAD CCD image sensor
Carl Zeiss Vario-Tessar lens, 12 elements in 10 groups
35 - 140 mm (35mm equivalent), shutter speed: Auto (1/4 - 1/1,000)
4X optical zoom, close-up Magnifying Glass Mode to under 1/2" (1 cm)
3.5" wide touch panel Xtra Fine LCD screen, 921K pixels, ultra-bright, high-contrast, wide viewing angle
4 GB internal memory, Store 1,000 full-resolution or 40,000 VGA-quality photos
Plus up to 16 GB Memory Stick DUO PRO media cards
Digital Portable Photo Album, In-camera organize and search
Organizes images in albums by date, View by folders, date, favorites, event
MPEG Movie VX Fine Mode - VGA (640 x 480) clips up to 30 frames per second
Shoot continuously up to 10 minutes
Bundled Picture Motion Browser software (PMB) for PC
Search and organize images by event or face, Calendar or chronological views
9-Point Auto Focus, Semi-manual focus: specify approximate distance, shoot through fence or window.
Easy Shooting Mode: Displays basic instructions are displayed on the LCD screen
Beginner-friendly Function Guide, Displays description of selected settings
Burst Mode: Up to 100 shots, approximately 0.62 second intervals, any resolution
16:9 aspect ratio High Resolution Mode to view on HDTV
PHOTOMUSIC slide shows with visual and face effects, 8 pre-loaded music tracks, transfer own from PC
10 In-Camera Retouching Tools: Trimming, Red-Eye Correction, Soft Focus, Partial Color, Fisheye Lens, Cross Filter,
Radio Blur, Retro, Happy Face, Unsharp Masking
Creative Painting Tools: Paint Pen, 30 stamps, 15 picture frames; Multi-Resizing: change image aspect ratio in camera
Wireless internet connectivity (802.11b/g)
Connect to Internet via free or fee-based wireless hotspots, secure and unsecured access points
Complimentary AT&T Wi-Fi access to Sony's Easy Upload Home Page until Jan. 31, 2012
WLAN button opens embedded Web browser, automatically navigates to Sony Easy Upload Home Page
Includes direct links to photo and video sharing sites like Shutterfly, Picasa,YouTube, Dailymotion, Photobucket
Access other sharing sites through Web browser for uploading photos and videos
Send e-mail notifications from sharing Web sites when post new images and videos
Access uploaded photos from sharing sites to display on camera
Supports DLNA to display photos on TVs and PCs
BIONZ Imaging Processor
Intelligent Scene Recognition (iSCN): Automatically identifies 8 types of scenes
(Backlight, Backlight Portrait, Twilight, Twilight Portrait, Twilight With Tripod, Portrait, Landscape, Macro)
Automatically optimizes camera settings, Optional additional shot for low and bright light
14 photo modes for specific shooting conditions
Include Auto, Program Auto, Easy Shooting, High Sensitivity, Landscape, Soft Snap, Twilight Portrait, Twilight
Scene selections include Beach, Snow, Fireworks, Underwater, High Speed Shutter, new Gourmet Mode for culinary creations
Face Detection: Up to 8 faces in scene, for natural skin tones with reduced red-eye
Adjusts auto focus (AF), auto exposure (AE), flash, white balance
Prioritize children vs. adults
Anti-blink: Takes two shots, checks for closed eyes, display warning
Smile Shutter: Automatically captures smile the moment it happens
Dynamic Range Optimizer (DRO)
Determines best exposure and contrast in shooting environment
Balances contrast in scenes with strong highlight and shadow
Double Anti-blur reduces camera shake blur, especially in low light
Optical SteadyShot image stabilization: gyro sensor shifts lens to help prevent blur
plus High ISO sensitivity (up to 3200)
Display on HDTV with included HD output adapter cable, optional cradle
Lithium-ion battery for up to 200 shots
Just over 5/8" thin (16.4mm)

Find the Sony DSC G3 Cyber-shot camera on Amazon.com
---
---
ZINK (Zero-Ink) Printing Technology



ZINK (Zero-Ink) printing technology
No ink cartridges or ribbons
Paper is durable material, contains colorless cyan, yellow, magenta dye crystals
100 B dye crystals activate and colorize with 200 M heat pulses
www.zink.com
Borderless, 2 x 3 inch prints, full-color (business card)
Semi-gloss finish, peel-off sticky back
Dry to touch, smudge-proof, water-resistant, virtually tear-proof photos
Fade-resistant, long-lasting images
~ 300 dpi, 2 - 3 MP photos
33 to 40 cents per print; 10-packs $3.99/4.99, 30 packs $9.99
---
Dell Wasabi PZ310 - Wireless Mobile Printer (2/09)
Instant photo sharing - wireless, ink-free printer - 640 x 960
Prints 2 in. x 3 in. borderless color images in less than a minute
Works with mobile phones like Blackberry Curve, LG Trax, Motorola RAZR V3
Bluetooth for wireless printing, PictBridge USB A for physical connection
Bluetooth 2.0 for FTP, BPP, BIP or OPP
Inkless, no-mess ZINK printing technology
Sticky-back photo paper is perfect for scrapbooking and decorating
One-touch reprint last printed image
Li-ion battery, 15 prints per charge
4.8 in. x 2.8 in. x 0.9 in., 8 oz. with battery
11/09 - Blue - $69
2/09 - Promotional launch price $99, regularly $149
vibrant colors - pink, black and blue
---
Polaroid PoGo - Instant Photography for the Digital Age
Polaroid PoGo - Instant Mobile Photo Printer (7/08)
Polaroid-on-the-Go: Pocket-sized, inkless digital photo printer
Share digital images trapped on cell phones and digital cameras
Printer about the size of a deck of cards
7/08 - $149, black and red
Prints in 60 seconds, from send to share
Print wirelessly from Cell phones (Bluetooth)
Enable Bluetooth on phone, Discover PoGo device
When viewing stored image, select Print via Bluetooth
Uses Bluetooth OBEX (Object Exchange Profile)
(Also print from PC through Bluetooth)
Print from Digital cameras (PictBridge, USB)
Connect PictBridge-enabled camera to printer (USB cable)
Follow PictBridge screen on camera display
Rechargeable lithium-ion battery, replaceable, 15 prints per charge
9V output Universal Input 100V to 240 VAC
Includes AC adapter -- can print while charging
User Interface: 2 Tri-Color LED indicators
Bluetooth (Class 2) OPP, USB 2.0 USB A connector
0.93 x 2.83 x 4.72 in., 8 oz. (without paper) includes battery
PR 5/08 - Polaroid Launches Digital Instant Line
www.thenewinstant.com/newsUpdates.cfm?iid=666115

Find the Polaroid PoGo Photo Printer on Amazon.com
Polaroid PoGo - Instant Digital Camera
5.0 megapixel digital camera with integrated instant printer
Select image, crop, print in about 60 seconds
Available 3/09 - SRP $199
3.0" bright color LCD for viewing images
SD compatible for expanded memory
Rechargeable lithium-ion battery
Print up to 20 photos per full battery charge
4.7 x 3 in., 10 oz.

Find the Polaroid PoGo Camera on Amazon.com
---
---
Lensbaby - Selective Focus Lenses with Interchangable Optics
SLR lenses for selective focus photography - Sweet Spot of focus surrounded by graduated blur
Lensbaby Optic Swap System - work with all 3 models
Previously Original Lensbaby, Lensbaby 2.0, Lensbaby 3G
Lensbaby Optic Swap System
Double Glass Optic - tack-sharp Sweet Spot of focus with minimum diffusion
Single Glass Optic - subtle, soft, dreamy effect
Plastic Optic - softest, very ethereal photos with abundant chromatic aberration
Pinhole/Zone plate - slide toggle to shift from pinhole to zone plate mode
Softer focus, dreamy images equally sharp from edge to edge
Optic comparison - www.lensbaby.com/optic-comparison.php




Lensbaby Composer - Smooth and precise shooting

Ball and socket, stays in position without requiring locking mechanism
Tilt to desired angle, focus with a manual focusing ring
Double Glass Optic $270

Lensbaby Muse - Fast and loose shooting

Great for street photography, fun shooting on the fly
Squeeze / compress flexible tubing to find focus
Tilt to move that focus / bend Sweet Spot around photo
Shoot while holding the lens in place
with dreamy Plastic Optic $100
with sharp Double Glass Optic $150

Control Freak - Methodical and step-by-step shooting

Great for macro and table-top photography
Compress and bend with two hands to focus, place Sweet Spot
Press locking button on the focusing collar to lock into place
Then fine-tune focus by rotating the focus ring,
Fine-tune tilt of Sweet Spot by rotating knobs on end of focusing rods
Double Glass Optic $350

Lensbaby Optic Kit $94 - Plastic, Pinhole / Zone Single / Double Glass
Lensbaby Accessory Kit $124 -
0.6X Wide Angle / 1.6X Telephoto Kit, Macro Kit, Creative Aperture Kit

Find the Lensbaby lenses on Amazon.com
---
---
Eye-Fi - Wi-Fi-enabled SD Card for Digital Cameras
Automatically transfer photos and videos wirelessly,
from digital cameras to home computers and online
See Portable Storage Galleryfor more details
Eye-Fi Home - Home Network - 2 GB - $49
2 GB; Wireless photo uploads to computer over home Wi-Fi network
Eye-Fi Share Video - Web Share - 4 GB - $79
Plus - Video upload
Plus - Unlimited upload photos to online sites over home Wi-Fi network
Eye-Fi Explore Video - Hot Spots - 4 GB - $99
Plus - Unlimited geotagging - Adds geographic location tags to photos
Plus - Hot Spot access for 1 year - More than 10,000 Wayport hotspots in the U.S.
Eye-Fi Pro X2 - Class 6, Endless Memory, Ad Hoc, RAW - 4 GB - $149
Plus - Class 6 read and write performance
Plus - Endless Memory Mode - Delete files after uploading
Plus - Ad hoc connection to wirelessly upload without needing wireless router
Plus - Upload RAW images (in addition to JPEG)

Find the Eye-Fi Home and Eye-Fi Share Video on Amazon.com
Find the Eye-Fi Explore Video and Eye-Fi Pro X2 on Amazon.com
---
---
SteadePod - Quick and Easy Camera Steadying Device (10/09)
Mobile and easy - compact size, light weight and quick setup time
Easier and faster than tripod or monopod
Use for low light, long exposure, high zoom situations
More control with compact, lightweight cameras and camcorders
About size of a tape measure (~ 2 1/2 x 2 1/4 x 3/4 in.), less than 4 oz.
Attach to camera with standard tripod mount, 1/4" x 20 thumbscrew
Extend steel cable up to 6 feet, anchor by a footpad (or attach to belt loop)
Pull to place a slight amount of tension on cable to steady camera
Three-way ratchet and locking mechanism: Extend, Adjust/Retract, Lock
Swiveling camera pad to position for portrait or landscape
10/09 - $29.95 ($24 street)
Cameron Products - www.steadepod.com

Find the SteadePod on Amazon.com
---
Joby - Gorillapod - Flexible Camera Tripods
Sturdy prehensile ball-and-socket legs
Flexible leg joints
Bend and rotate 360 degrees
Stand on rough surfaces
Wrap or hang from available perches
Rubberized ring & foot grips
Lock ring for screw clips and other attachments
Available in multiple sizes
PR 3/09 - Refresh - http://joby.com/press/releases/20090302
Gorillapod Original - Compact digital cameras (3/09, 2/06)

For compact digital cameras
Max weight load: 325 g (11.5 oz) [3/09 - was 275 g (9.6 oz)]
Adapter: Removable clip with universal 1/4-in tripod screw
Size: 15 x 3 x 3 cm (5.9 x 1.2 x 1.2 in)
Weight: 45.3g (1.6 oz)
07: Available in 6 colors
09: red, yellow, green, blue, pink, gray - and orange
2/11, 10/10 - $19.95; 10/09 - $21.95; 10/07, 10/08 - $24.95

Find the Gorillapod Original on Amazon.com

Gorillapod Magnetic - Compact digital cameras (4/10)

For compact digital cameras
Max weight load: 325 g (11.5 oz)
2/11, 10/10 - $24.95

Find the Gorillapod Magnetic on Amazon.com

Gorillapod Video - Adaptable Video on the Go (9/10)

For mini- and pocket camcorders and point and shoot cameras
Max weight load: 325 g (11.5 oz)
Omni-directional aluminum positining video head
Smooth 360 degree pan and 135 degree tilt
Quick release plate for filming on and off the tripod
Flexible, wrappable legs and stong magnetic feet
Size: 1.2 in. diag. x 7.2 in. (30 x 183 mm), 2.8 oz. (80 g.)
PR 9/10 - http://joby.com/press/releases/20100922
2/11, 9/10 - $29.95

Find the Gorillapod Video on Amazon.com

Gorillapod SLR - Lightweight SLR cameras / camcorders

For lightweight SLR cameras and camcorders
Max weight load: 800 g (1.75 lbs)
Adapter: Removable bubble-level clip (3/09) with universal 1/4-in tripod screw
Size: 25 x 5 x 5 cm (9.8 x 2 x 2 in)
Weight: 165 g (5.8 oz)
2/11, 10/09 - $39.95; 10/07, 10/08 - $44.95

Find the Gorillapod SLR on Amazon.com

Gorillapod SLR-ZOOM - Tripod mountable cameras (10/06)

For tripod mountable cameras and professional tripod heads
Max weight load: 3 kg (6.5 lbs)
Adapter: Permanent universal 1/4-in tripod screw plus 3/8-inch adapter screw
Size: 25 x 6 x 6 cm (9.8 x 2.4 x 2.4 in)
Weight: 241g (8.5 oz)
Ballhead accessory - 3/09 - $39.95
2/11, 10/09 - $49.95; 10/07,10/08 - $49/95/ $54.95

Find the Gorillapod SLR-ZOOM on Amazon.com

Gorillapod Focus - Professional cameras / camcorders (11/08)

For professional camera rigs with large zoom lenses, and video cameras
Machined aluminum legs
Max weight load: 5 kg (11 lbs)
Adapter: Permanent universal 1/4-in tripod screw plus 3/8-inch adapter screw
Size: 29 x 9.2 x 9.2 cm (11.4 x 3.6 x 3.6 in)
Weight: 500g (1.1 lbs)
2/11, 10/09 - $99.95; 10/08 - $139.95 (Eco-Packaged)

Find the Gorillapod Focus on Amazon.com
GorillaMobile
GorillaMobile Original - Handheld devices (5/08, 3/09)

For handheld devices: Mobile phones, PDAs, music/video players,
gaming devices, GPS units, compact digital & mini video cameras
Max weight load: Camera adapter: 325g (11.5 oz),
Adhesive clip / Suction cup: 200g (7.1 oz)
Adapters: Camera clip - universal 1/4" tripod screw for digital cameras,
Suction-cup clip - holds tight to any flat surface
High-bond adhesive clips - for more permanent attachment (2 included)
Size: 15 x 3 x 3 cm (5.9 x 1.2 x 1.2 in)
Weight: 45.3 g (1.6 oz)
2/11, 10/09 - $29.95; 10/08 - $34.95 (3/09 - was Go-Go)

Find the Gorillapod Mobile on Amazon.com

GorillaMobile for 3G / 3GS (9/09)

For iPhone 3G / 3Gs, iPods, and compact digital cameras
Max weight load: Up to 325g (11.5 oz)
Adds soft-touch case for iPhone 3G / 3Gs
12/09 - Free Gorillacam app for iPhone - Self-timer, timelapse, bubble level
2/11, 10/10 - $29.95; 10/09 - $39.95

GorillaMobile for iPod touch

For iPod touch 2nd gen., iPods, and compact digital cameras
Max weight load: Up to 325g (11.5 oz)
2/11, 10/10 - $29.95

GorillaMobile Yogi for iPad (1/11)

Protective polycarbonate case with rubber bumper edges
Flexible legs with quick-release clip detach for storage
Attach on the short or longer sides for portrait or landscape viewing
Twist and bend legs to adjust for uneven surfaces, wrapped around fixtures
1/11 - $49.94

Find the GorillaMobile Yogi on Amazon.com

GorillaMobile Ori (1/11)

Transforms from protective case to ergonomic positioning stand
Superlight silver aluminum/polypropylene composite
with microfiber screen cover
Rigid stability in a sculptural, lightweight form
Swivel between portrait and landscape modes
Adjustable display height and viewing angle
Slight incline for typing with kickstand tab
Angle up to 180 degrees for personal viewing
Set at secure 45 degree angle with cover flap
Lift up on stand to 14 in. for general viewing
Fold up into folio for travel
1/11 - $79.95

Find the GorillaMobile Ori on Amazon.com
GorillaTorch
Gorillatorch Original - Hands-Free Light (9/09)

Hands-free light with flexible, wrappable legs and magnetic feet
Gorillatorch Original - CREE LED, 65 lumens
Bright CREE LED, maximum output 65 lumens / 1 watt
Dimmer switch; Water resistant; 3 AA batteries
Battery life: Max brightness 20 hours, Optimum 50 hours, Economy 80 hours
Size: 20 x 7.5 x 6.5 cm (8 x 5 x 2.75 in)
Weight: 185 g (6.5 oz) with batteries
PR 9/09 - http://joby.com/press/releases/20090923

Find the Gorillatorch on Amazon.com

Gorillatorch Flare (7/10) - Emergency-Prepared

CREE LED + 3 red LEDs, 100 lumens
6 light modes, with emergency strobe
2/11, 7/10 - $34.95

Find the Gorillatorch Flare on Amazon.com

Gorillatorch Blade (10/10) - Precise, Techtical, Rechargable

CREE LED, 130 lumens
Rechargable li-ion battery USB or AC
2/11, 10/10 - $59.95

Find the Gorillatorch Blade on Amazon.com
---
Fromm Works - Quik Pod - Telescoping rod (07)
Telescoping rod extends from 7 1/2 to 18 inches
Standard tripod socket , holds up to 16 ounces
Adjust angle up to 90 degrees
Point camera back for self-portrait (tiny mirror on base)
Shoot using self-timer, or motion video
High quality polycarbonate and aluminum
use in weather, underwater photography in salt water.
Rremovable belt clip, hiking clip, wrist strap, carry bag
3 1/2 ounces
$24.95
Quik Pod Pro - Tripod adapter
Adds adjustable tripod adapter, screw into Quik Pod base as freestanding pole
suction cup base accessory and magnetic base for metallic surfaces also available soon for $20 each.
07, 08 - $29.95

Find the Quik Pod Pro on Amazon.com
---
Fromm Works - Quik Pod DSLR - Telescoping rod / Monopod (08)

Use as handheld extension pole and as monopod
Extends from 18 to 53 inches (45 to 135 cm), with 3 locking clamps
Adjustable camera mount with quick release platform
Platforms available with friction locking (continuous) and gear locking (stepped)
Built-in mirror for overhead shots and self-positioning
Designed for digital SLR cameras, camcorders and portable lights
Maximum suggested carrying weight
6 lbs. (3000 grams) when used as monopod
2 lbs. (1000 grams) when used as extension pole
Includes 2 screw-on end caps for handle: rubberized monopod or machined aluminum
Includes gel pad for bracing handle against body
Includes wrist strap, hiking clip, and carry bag
High quality polycarbonate and aluminum components for strength, durability and portability
Weighs 9 oz (250 grams)
spring 08 - $49.99

Find the Quik Pod DSLR on Amazon.com
---
Trek Technologies - TrekPod Adjustable Hiking Staff / Tripod (10/07)
Lightweight, height-adjustable walking/hiking staff, with fully integrated tripod
Walking Staff, Monopod, Tripod
MagMount quick-release, ball-head mount-demount system
11/09 - XL $399, Go! PRO $229, II $99
WindowMount Plus, window mount system - $59.99
Pan and tilt head with MagConnect quick mount system
VersaMount - Clamping arm, mounts on tube - $19.99
Trek-Tech TrekPod Go! - Collapsible Hiking Staff / Tripod
Collapsable in 4 elements to pack in overhead carry-on
Polymer palm rest
MagMount AR/i - ball head mounting system
Industry standard 1/4"-20 mounting stud
Adds Anti-Rotation with 30 degree Indexing
Weight 28 oz. with MagMount
Packed size in case 23 x 4 x 2.5 in.
Monopod height range 42.5 to 62.5 oz. - 4" shorter
Tripod height range 39 to 57.5 in., open leg diameter 22 in.
Monopod load capacity approx. 200 lbs.
Includes traveling case, anti-rotation MagMount,
heavy force anti-rotation MagAdapter, light force standard MagAdapter.
10/07 - $199.99

Find the Trek-Tech TrekPod Go! on Amazon.com
Trek-Tech TrekPod - Adjustable Hiking Staff, with Integrated Tripod
Lightweight, height-adjustable walking/hiking staff, with fully integrated tripod
Walking Staff, Monopod, Tripod
Can break down to under 28" long
Cork palm rest
MagMount quick-release, ball-head mount-demount system
Rare earth neodymium magnet
Industry standard 1/4"-20 mounting stud
(can remove to expose standard mounting stud)
Holds up to 9 pounds
Weight 30 oz. with MagMount
Monopod height range 47 to 62.5 in.
Tripod height range 43 to 57.5 in., open leg diameter 22 in.
Monopod load capacity approx. 200 lbs.
10/07 - $139.99

Find the Trek-Tech TrekPod on Amazon.com
Trek-Tech T'Pod - Mini Tripod with MagMount
Portable, packable tripod with MagMount and MagConnect
with Travel Case, Ball head and MagMount quick mounting system
10/07 - $79.99
---
Bogen / Manfrotto MODOsteady - Hybrid camcorder stabilizer (11/07)


Hybrid stabilizer for lightweight camcorders
Multiple-function, hybrid photo-video CE-oriented tripod, Folds flat
Part of MODO consumer line of tripods and monopods
modo.manfrotto.com
Quick release camera plate, rotates 180 degrees
Adjustable, foldable extension arm - bottom bi-injected soft-hard rubber foot
Shoulder support: Fold up bottom section of extension arm as shoulder pod
Counterbalancing stabilizer: Fully open extension arm as adjustable counterbalance
Set for proper position and weight, based on camcorder weight and center of gravity
Table tripod: Fold extension arm, open rubber handle into 3 legs
Weight 1.1 lbs, Load capacity 1.7 lbs; Closed length 7.5 in, maximum height 5.1 in
Manfrotto 585, Available from Bogen Imaging, 11/07 $195
---
---
Merax - One Shot Photo Studio
Collapsible portable photo studio / light box, 16x16 in.
Folds into slim carry case with handle, 17 x 17 x ~ 2 in.
unfolds and assembles quickly with Velcro edges
Light box with translucent nylon walls to reduce shadows and glares
Background cloth, reversible, non-reflective, for back and floor (white or blue)
Two lamps: 2800K high-output with 6 in. stand
Pop-out 4 in. retractable tripod legs for handheld use
Uses standard GU10 bulbs, no more than 50W
Camera stand pole, 10 - 17 in. adjustable, with heavy steel stand
ArcSoft PhotoStudio software for photo editing
Plus Cut-It-Out plug-in for background removal
Paint roughly over foreground and background areas
12/07 - $129 -> $99 (11/09)
---
Merax - Mini USB Strap
Wrist strap with integrated Mini-USB cable
Durable non-slip ~ 5 1/2 in. plastic wrist strap
Transforms to a ~ 12 in. cable: USB to mini-USB
12/07, 11/09- $10
---
Automatic slide show
Automatically rotate photo, portrait or landscape (position sensor )
Automatic brightness adjustment (light sensor)
Transfer photos
Memory card slot, USB connection
wireless transfer via Bluetooth from cell phones
Remotely via MMS from cell phones
Dial in with phone modem
Update over Internet
---
Digital Foci - 1.5" Keychain Pocket Album (10/07)
Keychain digital photo viewer
1.5" color LCD screen, 128 x 128 pixels
Holds up to 74 photos, 8 MB internal flash memory
Scroll photos manually or run photo slideshow, adjustable time interval
Lithium-ion battery, life up to 9 hours
Recharge with AC adapter or USB power
Automatic slide show, or manual scroll
Built-in clock with automatic on/off timer. LCD contrast adjustment
2.2" x 1.6" x 0.5", 1.2 oz.
Includes Photo Viewer Software to convert JPG or BMP images from PC or Mac
11/09 - $19; Model PAL-015 - Black, silver, blue, $29.95
Press release - 10/07 - www.digitalfoci.com/dfnews/dfnews_071009.html

Find the Digital Foci Pocket Album on Amazon.com
---
Digital Foci - Pocket Album Deluxe OLED 2.8 (7/08)
2.8" (320 x 240) Active Matrix OLED screen, high contrast ratio of 10,000: 1
Holds over 4,000 digital photos on internal flash memory
Folder structure for organizing photos
Built-in clock with automatic on/off timer
Also works as alarm clock and calendar
Compact photo viewer with wrist strap
Colors available: Charcoal, Sky Blue, Powder Pink
11/09 - $64; PAD-280 - MSRP: $99 (Available July 2008)
Press release 1/08 - www.digitalfoci.com/dfnews/07-12-27_Image_Moments_Series.doc
Digital Foci - Pocket Album OLED 1.5 (5/08)
1.5" Passive Matrix OLED screen with high contrast ratio of 1,000:1
Holds more than 120 digital photos on internal flash memory
Digital keychain
11/09 - $29; PAO-150 - MSRP: $49 (Available May 2008)
---
Parrot DF7700 MMS Digital Photo Frame (OLD - Europe end 07)
Send photos via MMS from mobile phone
also wireless transfer via Bluetooth, USB connection, SD card slot
SIM card with a dedicated call number built directly into the photo frame
7-inch digital TFT LCD screen, 720 by 480
512 MB internal memory
position sensor automatically rotates photo, portrait or landscape
light sensor adjusts brightness
European mobile carrier end 2007
---
Parrot - 7" PHOTO VIEWER - DF7220 - Bluetooth, USB, SD (OLD - Q1 08)
Multi-Connectivity Digital Photo Frame (DF7700, w/o SIM card)
7" LCD, 410 x 234 pixels, 32k colors
Bluetooth v2.0 + EDR (transfer photos from mobile phone.)
Mini USB port (transfer photos from PC)
SD/MMC card slot (transfer photos directly from a camera)
Photo formats: JPEG and GIF
Stores over 300 photos (10 MB internal)
Automatically adapts picture size to screen
Use horizontally or vertically: automatically rotates picture (portrait/landscape)
Menu with brightness adjustment
Customizable clip-on plastic external frame
Software updates via Bluetooth
Set on/off time, or power off when dark
Metal rod stand, wall-mounting hook
Display 5.0 x 3.5 inches (130 x 87 mm), Ratio 10:15
7 foot power cord - thin and white
8.2 x 6.4 x .86 inches (208 x 162 x 22 mm), 17 oz (480 g)
4/08 - $169 / $126 street

Find the Parrot DF7220 7" Photo Viewer on Amazon.com
---
CEIVA Digital Photo Frames - Update by phone, Internet
11/09 - 8" frame $127, 8" w/ Wi-Fi $147
OLD - 8" frame, 640 x 480, $224 / $184; 7" frame, 480 x 234, $174 / $139
Display pictures from built-in card reader
Or - Automatically downloads new photos over phone wire - No PC required
Dials local phone number each night to retrieve pictures sent by friends
Post from PC, or send from camera phone
Post to CEIVA Network - organize thousands of photos in online albums
Displayed on frame anytime and shared with family and friends
Monthly CEIVA PicturePlan service to download photos by phone
Enables Digital Photo Frame to retrieve and display pictures
Receive up to 50 new photos daily over phone line
50 photos an hour over broadband or wireless connection
Safe photo storage, service support, printing options, free editing software
$9.95 / month, $99.95 annual subscription
Optional adapters: CEIVA Broadband $24, CEIVA Wireless adapter $34
Memory card formats: Compact Flash, Memory Stick / PRO / Duo, Secure Digital, miniSD, SmartMedia, MultiMedia Card, Microdrive, xD-Picture Card

Find CEIVA Digital Photo Frames on Amazon.com