Manifest Technology Blog -- Site: | Articles | Galleries | Resources | DVI Tech | About | Site Map |
Galleries: | Video Editing Software | DVD Authoring Software | Cameras | Camcorders |
| Media Players - iPod / iPhone | Handheld Devices | Mobile Comm - Smartphone Apps |
| Portable Storage | Audio Accessories | Power Accessories | Peripherals |

---
Portable Power Accessories Gallery [Inactive]
by Douglas Dixon
---
The 2000s Mobile Digital Revolution:
Cell Phones to Smartphones, Walkman to Media Players, CD to Flash to Web Services
Historical perspective on some interesting technology and trends in digital home media.
They include some sample products illustrating these trends.
Information and pricing are summarized from public sources as of when they were added,
and may be incorrect or out of date.
Portable Power Trends
Universal power / chargers, device-specific adapters / tips
Portable Power
Batteries and LED Flashlights - Portable power
Portable Batteries / Chargers - Portable power
Fuel Cell - Chemical energy
Solar Chargers - Renewable energy
Portable Power Adapters - Wall, car; Phone to laptop
Wireless Power

See also:
Portable Media Player Gallery -- MP3 / video players, Multifunction devices
Mobile Communications Gallery -- Mobile media, Phones and PDAs
Portable Storage Gallery -- Cards and drives, Flash and hard disk
Portable Audio Accessories Gallery -- Headsets, speakers, Bluetooth
Peripherals and Accessories Gallery -- Keyboards / mice, USB / data, portable power

Find related Power articles in the Manifest Tech Blog
---
---
Portable Power Trends - Holiday 2009
See also:
Digital Holiday Trends 2007: Portable Power
-- Universal Chargers to fuel all these electronic goodies on the go
---
Portable Power Features
Rechargeable Battery - Pre-Charged Rechargeable, Rechargeable Li-ion, Alkaline -> Lithium
Universal Chargers - Adapters for popular devices
~ 5-8 watts - Mobile phones, PDAs, media players, Mobile headsets
~ 18 watts - Digital cameras, camcorders
~ 70 watts - Portable game players, Portable DVD players, GPS systems, satellite radio
~ 75 - 100 watts - Notebooks
Travel: 110 to 230 volts, 50/60h
Multiple devices: Charge simultaneously
Power source: Batteries, USB / mini (5V)
Audio feed - Passenger headset jack
Wall power, cars, and airplanes
Solar power
Wireless power
---
Batteries and LED Flashlights
---
Duracell - Batteries and Chargers
Duracell Pre-Charged Rechargeable Batteries (9/07)
Nickel metal hydride (NiMH) cells
Come charged and ready to use out of the pack
Don't need to charge before using for the first time
Stay charged longer and have to be recharged less often
Retains power for up to 365 days while not in use
$12.99 for four-pack
---
Duracell - Daylite LED Flashlight (8/08, 11/09)
Brighter, whiter, even beam, without typical flashlight dark spot
Combines LED technology with precision focus
Uses both a lens and a reflector to capture and project up to 100% of the light
TrueBeam technology focuses and projects more light than typical LED and bulb
20x brighter, 5x battery life
Adjust from focused spotlight to floodlight - 3:1
Sleek, durable, rugged design, aircraft grade aluminum
Batteries included, Lifetime guarantee
Duracell Daylite with AA batteries (3W / 80 Lumens), $24
Duracell Daylite with AAA batteries (3W / 80 Lumens), $24
Duracell Daylite CR123 (4W / 160 Lumens), $34

Find the Duracell Daylite LED Flashlight on Amazon.com

---
Duracell Chargers - Lithium-Ion Rechargeables (8/09)
Duracell Pocket Charger - $19 - 500 mAh
Pocket-sized, supplemental charger for cell phones
miniUSB charging arm, up to 60 percent more talk time

Duracell Instant Charger - $29 - 1500 mAh
miniUSB and USB ports, Power switch
Recharges through USB port, Includes USB to miniUSB cord
iPod classic up to 50 hours, nano 45 hours, Cell phones 180 miinutes

Duracell Powerhouse Charger - $49 - 2000 mAh
Charge two devices at once, USB port and miniUSB arm, Power switch
Reserve power for cell phone, PDA or MP3 player, many digital cameras

PR 8/09 - http://www.pginvestor.com/...

Find the Duracell Pocket Charger, Instant Charger,
and Powerhouse Chargeron Amazon.com

---
Energizer - Batteries and Chargers
Battery performance
Energizer AA 2500 mAh - Up to 325 digital pictures per charge, 6 hours toy playtime
Energizer AA 2000 mAh - Up to 225 digital pictures per charge, 5 hours toy playtime
Energizer AAA 900 mAh NiMH - Up to 6.5 hours of playing time on an MP3 player
Energizer e2 Lithium batteries
Long lasting - AA batteries last up to 7x longer in digital cameras
vs. leading ordinary alkaline batteries
- Up to 90 digital photos for Duracell Coppertop
- Up to 120 for Duracell Ultra Digital
- Up to 200 for Panasonic Oxyride
- Up to 200 for Duracell PowerPix
- Up to 630 for Energizer e2 Lithium
Lightweight - 33% lighter than alkaline AA/AAA
Performance in extreme temperatures ~ -40 to 140 F (-40 C to 60 C)
vs. alkaline ~ 0 - 130 F
15-year shelf life
Re-launch of Energizer MAX AAAA battery -- Re-launch (1/07)
Power needs of small high-tech devices
vs standard AAA: weigh 43% less, 40% smaller volume, 20% thinner
42.5 mm long , 8.3 mm diameter, approx. 6.5 grams
Approximately 1.5 volts, 625 mAh
---
Energizer - LED Flashlights
LED flashlights for home, work, pro, outdoor, kids, and on the go
---
Energizer Glas Flameless Candle (10/11)
Candle and holder for warm glow with realistic flickering effect
Flameless - No open flame, soot, wax, smoke
Matte black base, clear acrylic shade, no fake wicks or bulbs
Also Edge Flameless Candles in contemporary square silhouette
3 energy-efficient LEDs, never need replacing
3 AA batteries, Up to 300 hours, 4 hour auto off
6.0 / 4.0 x 3.6 x 3.6 in.
10/11 - 6 inch - $21.99 / $17.93, 4 inch - $19.99 / $16.63

Find the Energizer Glas Flameless Candle on Amazon.com
---
Energizer Hard Case line
Energizer Hard Case Professional 2AA Swivel Light

Rotating swivel head (125 degrees)
4 lights: high intensity white LED, 2 red for night vision, 1 green for pipe inspection
80 lumens, 4 hour run time with included 2 AA Energizer Max alkaline batteries
Impact resistant plastic, rubber fittings and grips
Shatterproof lens survives 20 foot drop
2 & 4 AAA battery models, around $29

Find the Energizer Hard Case Professional Swivel Light
and the Energizer LED Flashlight on Amazon.com
---
Energizer Energi To Go Instant Cell Phone Charger (1/07)
Light-weight, portable, powered with 2 AA batteries
Intelligent control chip maximizes power transfer to the cell phone
Power conversion technology optimizes battery performance
Battery charge termination control
Place calls within 30 seconds of activating
Up to 9 hours on GSM phones and up to 3 hours on CDMA phones
Packaged with various adapters, supports over 80% of U.S. wireless phone brands
$19.99 (includes 2 Energizer Lithium AA batteries

Find the Energizer Energi-To-Go Charger on Amazon.com
---
Battery with USB or swappable tips
---
ZAGG - ZAGGsparq 2.0
Portable USB charger and battery
Battery carries multiple charges

4 full recharges for iPhone and smartphones
Adds 5 to 6 hours of video playback to iPad
Charge iPad from 0 to 60%, at same rate as iPad wall charger

Dual USB charger - Charge two devices at once

Use your device's USB cable
Top port is Optimized - Charges iPad, iPhone, iPod family
Bottom port is General - Standard USB devices

Lithium polymer battery, max 6000 mAh @ 50/60 Hz
LED status lights with button: power level, 25-50-75-100%
100-240 VAC @ 50/60 Hz, Max output: 2000mA @ 5V
3.5 x 3.5 x 1 in., 8.6 oz.
Power prongs fold into unit for travel
~12/10 - $99

Find the ZAGGsparq on Amazon.com
---
mophie - juice pack external batteries for iPod and iPhone (8/10)

mophie juice pack reserve

mophie juice pack reserve (6/10)

1000mAh - $39.95 - 3.15 x 1.60 x 0.63 in.

mophie juice pack boost (8/10)

1500 mAh - $59.95 -3.70 in x 2.03 in x 0.63 in

External lithium polymer batteries

Charge all iPods and iPhones with iPod connector
High-output, charges up to twice as fast as conventional 500mAh batteries
Improved conversion efficiency, more power to device (90% vs. 80%)
Smart technology turns power on only when connected
Retractable 30-pin iPod connector
Charges via micro USB port
Rechargeable over 500 full cycles
Does not pass-though charge device while charging battery
4 LED status indicator, blink while charging, press button to display level
LED flashlight -- push and hold to turn on/off

Find the mophie juice pack reserve
and juice pack boost on Amazon.com
mophie juice pack powerstation - for iPod, iPhone & iPad (9/10)
3600mAh - $99.95 - 4.31 in x 2.86 in x 0.65 in.
Charges at up to 2.1 amps. 4X faster than traditional USB batteries; Automatically switches charge, 500 mAh, 1A, 2.1A
6 LED charge status indicator, Integrated stand-by switch
Rechargeable over 500 full cycles; Can pass-though charge device with iPad charger adapter
---
Griffin - TuneJuice Universal USB Battery Charger (1/10)
Battery-powered USB charger for mobile phones, MP3 players, other devices
One USB port - Use device's USB charge/sync cable (not included)
Replaceable standard batteries - Uses 3 AA batteries (included)
Pocketable ~ 3 3/8 x 2 1/4 x 3/4 in., lightweight (mostly batteries)
Adds up to 2.25 hours talk time (on iPhone 3GS)
Output 5 V @ 850 mA'; LED
Works best with fresh batteries; best if device battery only partially depleted
1/10, 3/10 - $24.99 ($11.99 street)

Find the Griffin TuneJuice Universal on Amazon.com
---
Griffin - PowerDuo Reserve - Wall & Auto USB Chargers + iPod Battery (5/09)
Bundle with both AC and auto chargers for USB-rechargeable devices

including iPod, iPhone, other phones and MP3 players
plus removable battery pack for iPod / iPhone

PowerBlock Reserve wall charger/adapter with USB port

Input 100 - 240 volt AC wall socket, 50 - 60 Hz
~ 3 x 1 3/4 x 1 1/8 in., fold-up prongs
Output 5 V, 1000 mA

PowerJolt Reserve auto charger with USB port

12 volt DC - cigarette lighter or accessory socket
Output 5 V, 1000 mA

Reserve backup battery pack - Detachable, small ~ 1 3/4 x 1 5/8 x 1/2

Charge in PowerBlock or PowerJolt - snap in - magnetic. LEDs
Dock connector to plug in to iPod / iPhone 5 V DC @ 500 mAh
;
Up to 24 hours music / 6 hours of video on iPod nano 6th gen
Up to 1.5 hours web access / 2 hours talk on iPhone 3G

PowerDuo Reserve - both with one battery pack $59 (street $45)

PowerBlock / PowerJolt w/ battery each $39 (street $29), Battery $19

PR 5/09 - http://www.griffintechnology.com/press/releases/71

Find the Griffin PowerDuo Reserve, PowerBlock Reserve,
and PowerJolt Reserve on Amazon.com
---
iGo - Charge Anywhere - Transportable Battery and Outlet (10/09)
Compatible with devices including mobile phones, Bluetooth headsets, smartphones/PDAs, MP3 players, portable gaming devices, digital cameras, GPS
Charge plugged or unplugged - with internal battery
Two USB outlets - Power two devices at once
Wall charger - Charge devices while also charging integrated battery
Travel-friendly - Plug blades fold for travel
Power button to turn on charging ports
Includes 6 ft. USB cable for iGo tips
1800 mAh battery - Provides up to three full charges to most mobile devices
Worldwide: Input power 100-240 VAC; 50/60 Hz, Output power 5W
~ 3 1/2 x 2 x 3/4 in.
Introduced 10/09 $49.99, same 2/10

Find the iGo - Charge Anywhere on Amazon.com
---
Kensington - Rechargeable Pocket Booster for Mobile Phones (09)
Includes two rechargeable NiMH AAA batteries (insert in sides)
Power - USB port on end to charge mobile devices
Up to 3 hours of extended talk time on mobile/smart phone
Recharge - USB connector (under end cap) - plug into USB port to recharge
(Or remove AAA batteries if needed to power other devices, like wireless mouse)
Includes mini-USB charging cable with micro-USB adapter
Charging time: 3 - 4 hours, 90% in 3 hours
Green LED charging indicator: Blinking charging, Steady charged
Input: 5VDC 0.5A Max.- Output: 5VDC, 0.5A (500 mA) Max.
Battery capacity: 800mAh (milli Amp-hours)
Cycle Life: more than 300 times (more than 80% initial capacity)
3.875 x 1.25 x 0.56 in. (98.5 x 31.8 x 14.2 mm), 0.67 oz. (20 grams)
PR 1/09 - http://us.kensington.com/html/16626.html
$24.99 / $19

Find the Kensington Pocket Booster on Amazon.com
---
Miccus ChargeBlock for iPod / iPhone (9/09)
Compact charger for iPods and iPhones (except shuffle)
Sleek, compact, recharge anywhere - plug on bottom of iPod / iPhone
Snap on cap protects iPod 30-pin dock connector
iPod / iPhone usable while charging
LED lights show charging status and remaining battery life
Recharge from USB to mini-USB cable (included)
Up to 11 hours audio, 3 hours video, 3.5 hours talk time
800 mAh rechargeable lithium ion battery lasts 500+ charges
Fully charges in 4 hours
2.4 x .0.68 x 1.24, 1.6 oz.
9/09 - $39.99

Find the Miccus ChargeBlock on Amazon.com
---
Energizer - Energi To Go XP (XPAL) - Rechargeable Power Packs (09)
Line of rechargeable power packs, backup power for portable electronic devices
Cell phones and smartphones, to digital cameras and camcorders, to netbooks and laptops
Energizer partnership with XPAL Power, www.xpalpower.com
Precharged, use lithium polymer battery technology, recharge and reuse hundreds of times
Power packs have battery life indicator lights, Charge time ~ 4 hrs.
Include USB port(s) and power ports at different voltages
Use adapter cables to connect interchangable tips for phones, cameras, laptops, and other portable devices
Tip finder - www.energizerpowerpacks.com/us/tipfinder
Free Tips for Life program - Register online for 2 free tips per year - www.xpalpower.com/us/modules/freetips

XP 1000 - Cell Phone / XP 4000 - Digital Camera or Camcorder, with EZ-Charger
XP 1000 - Cell Phone - $19 - 1.3 oz - 3.3 x 2.1 x 0.28 in. - 1000 mAh @ 5v capacity
Slim emergency charger, Credit card size with micro USB port
Cell phone up to 6 hrs., iPod & MP3 players 30 hrs., Bluetooth headsets 34 hrs.
Includes 4 cell phone tips: Apple, Nokia, micro USB, mini USB
Cable split with USB port (for charging) and tip connector, Rated Output DC 5V, Max 500 mA

XP 2000 - SmartPhone - $39 - 2.5 oz - 3.3 x 2.3 x 0.5 in. - 2000 mAh
USB port - Full charge smartphone, up to 3 charges for cell phones
Cell phone 12 hrs., MP3 60 hrs., Bluetooth 68 hrs. + Gaming devices 12 hrs., Digital Camera 750 photos
Includes 6 cell phone tips: Apple, Nokia, LG, Samsung, micro USB, mini USB, Output DC 5V, Max 500 mA

XP 4001 - 2 Devices at Once - $59 - 5.4 oz - 5.12 x 3.15 x 0.55 in. - 4000 mAh
Cell phone 25 hrs., MP3 120 hrs., Bluetooth 136 hrs., Gaming 24 hrs., Camera 1500 photos
Includes 6 cell phone tips, 2 5V USB ports, Output DC 5V, Max 500 - 1000 mA (1 - 2 USB)

XP 4000 - Digital Camera or Camcorder - $79 - 4.9 oz. - 4.5 x 2.9 x 0.63 in. - 4000 mAh
(Same as XP4001) + Camcorders 6 hrs.
Includes 6 cell phone tips + 3 media tips - JVC, Panasonic, Sony camcorders; Portable DVD players
EZ-Charger - Charges all (5V) internal batteries - USB clip to battery
5V USB port + 8.4V Power Port, Output DC 5-18.4V, Max 1500 mA

XP 8000 - Netbook - $99 - 7.9 oz - 4.3 x 2.9 x 0.9 in. - 8000 mAh - Size of BlackBerry phone
Cell phone 50 hrs., MP3 240 hrs., Bluetooth 272 hrs., Gaming 48 hrs., Camera 3000 photos, + Netbook 3 hrs.
Includes 6 cell phone tips + 3 media tips + 6 laptop tips: Acer, Dell, Fujitsu, HP, NEC, Samsung, Sony, Toshiba, etc.
5V USB port + 9-12V Power Port + 16-20V Power Port, Output DC 5-20V, Max 2000 mA
XP 18000 - Laptop - $179 - 17.5 oz - 7.1 x 2.9 x 0.9 in. - 18000 mAh - Charge 3 devices at once
Cell phone 112 hrs., MP3 540 hrs., Bluetooth 612 hrs. , Gaming 96 hrs., Camera 7000 photos, + Laptop 6 hrs.
Includes 6 cell phone tips + 3 media tips + 6 laptop tips
5V USB port + 9-12V Power Port + 16-20V Power Port, Output DC 5-20V, Max 3500 mA

Find the Energizer - Energi To Go XP Power Packs on Amazon.com
XP 1000 Cell Phone - 2000 Smartphone - 4001 2 Devices - 4000 Camera - 8000 Netbook - 18000 Laptop
---
iGo - powerXtender - Portable Battery-Powered Charger (07)
Emergency power source on the go for mobile devices
Mobile phones, smartphones/PDAs, MP3 players, Bluetooth headsets, digital cameras, portable gaming devices, GPS systems
Uses iGo power tips (sold separately)
Includes one free tip for mobile electronic device - order online
Uses 2 AA batteries (alkalines included); Power switch
Up to 10 hours of talk time, 20 hours game play, 28 hours listening (premium batteries)
Output 4.2 - 6 v dc, Up to 5 Watts, Up to 800 mA
3.6 x 1.9 x 0.9 in. (94 x 48 x 23 mm)
$15.99

Find the iGo powerXtender on Amazon.com
---
Moxia USBCELL Rechargable Batteries (07)
AA battery, removable top / green lid - standard USB connector
Full charge 5 hours via powered USB port,
or charge for 7 hours in approved 250 mA Ni-MH charger
LEDs indicate charging status
$19.50 for two-pack (9/06, 4/07, 11/09)

Find the Moxia USBCELL on Amazon.com
---
Ecosol - Powerstick Universal Charger (11/06)
Charge in USB port
Adapters for cell phones, MP3 players, digital cameras

Find the Ecosol Powerstick on Amazon.com
---
CPS -- Cellboost Disposable battery / chargers
Compact Power Systems - Disposable battery/chargers
For cell phones, smart phones, MP3 players, game players, camcorders.
06 - From $7.99 for cell phones, $9.99 for the iPod and iPod mini, $19.99 for camcorders

CPS iRecharge rechargeable batteries

$39 for iPod Shuffle (up to 40 hours of additional play time)
$79 for the iPod and iPod mini (12 hours)
$49 for camcorders (3 hours),
$59 for portable DVD players (3 hours).
$29 for Sony PSP (8 hours), designed as an integrated stand for movie watching
---
Chemical energy
---
Medis - Fuel Cell Power (1/09)
Consumer fuel cell for portable devices - Personal, portable, alternative energy source
Auxiliary charger - Battery is sprinter, fuel cell is long distance runner
Higher energy content (longer use times), higher wattage (more power) over extended periods
Long shelf life - 18 months or more
Recyclable, shipping address on box
Does not contain or use environmentally damaging materials or chemicals
Department of Transportation permit to carry and use on airplane, UL and CE
Electro-chemical, catalytically converts chemical energy of a fuel into electrical energy
Proprietary Direct Liquid Fuel Cell (DLFC) technology, direct liquid borohydride
Medis 24/7 Fuel Cell Power Pack

Activate by removing safety tab and firmly squeezing
Shake and tap to assure liquids are completely dispersed
Insert flat connector plug of electrical cord into the slot, then plug in to device
Delivers 20 watt-hours, charge phone up to 6 times, smartphone 4 times
Output 3.8 - 5.5 Volts, 4W max, 1A max
2.6 x 3.8 x 2.2 in., 6.5 oz.
1/09 - list $29 / street $24 - Began manufacturing Q1 2006

Find the Medis 24/7 Fuel Cell Power Pack on Amazon.com
Medis 24/7 Xtreme Portable Power Solution

Mobile, instant power for smartrphones
Power Pack, Xtreme Charger Cable with built-in battery
plus 4 cell phone tips: USB, miniUSB, microUSB, std Nokia [not Palm Treo?]
1/09 - list $49

Medis Fuel Cell Power Emergency Kit

Mobile phone power plus LED flashlight for emergency lighting
Power Pack plus 3 cell phone tips: miniUSB, microUSB, std Nokia, Nokia (2mm)
1/09 - list $49

Find the Medis 24/7 Xtreme Portable Power and
Fuel Cell Power Emergency Kit on Amazon.com
---
Renewable energy
---
Better Energy Systems - Solio Hybrid / Solar Chargers
Combines high efficiency solar panel with large capacity integrated battery
Universal charger
Interchangeable tips for devices including mobile phones, PDAs, music players,
digital cameras, GPS systems, game consoles
Included Tips include USB Port Replicator and Mini-USB
Stores power - Internal Lithium Ion battery stores power for up to 1 year
Hybrid charger - Recharge internal battery through solar panel
Some models plug into wall power or USB port of any computer
Solio Classic - 6W
Stores power from the sun or wall socket
Durable and weather resistant, Window suction cup
Fully charged Solio recharges typical mobile phone phone up to two times
or up to 15 hours of MP3 music
One hour of sun = 15 minutes talk time or 40 minutes of MP3 music
Rated Output: 4 -12V, 0 - 1 Amp (max), Solar panel output: 155mA @ 6V
Wall charger: 6v / 420 mAh Global travel, US/UK/EU/AU/NZ adapters
Nominal DC Output 3V 2A, Max 6 Watts, DC Input: 5-6V 0.4Ah
Battery: Rechargeable Lithium Ion 3.7V 1.65A cell
4.72 x 1.34 x 2.56 in (120 x 34 x 63.5 mm), 5.6 oz. (156g)
Temperature Range -4F to 131F (-20C to 55C)
(1/09, 11/09) $99

Find the Solio Solar Charger on Amazon.com
Solio Mg - Magnesium Edition - 9W (08)
Like Classic, but with iGo compatible Adapter tips
One hour of sun = 25 mins talk time on cell phones, play iPod for 1 hour
Nominal DC Output: 3V 3A, Max 9 Watts, DC Input 5-6V 0.4Ah
Battery: Rechargeable Lithium Ion 3.7V 1.8A cell
4.72 x 1.34 x 2.56 in (120 x 34 x 63.5 mm), 6.38 oz. (179g)
Temperature Range -4F to 131F (-20C to 55C)
(1/09, 11/09) $169

Find the Solio Magnesium Charger on Amazon.com
Solio Hybrid 1000 - 3.6W (10/07)
Stores power from the sun, or recharge from USB port of any computer
Rugged, weatherproof and lightweight design
Integrated carabiner-clip handle, Built-in output cable
Fully charged H1000 recharges typical mobile phone once, or 10 hours MP3 music
One hour of sun = 15 minutes talk time or 40 minutes of MP3 music)
Battery level indicator
Nominal DC Output 3V 1.2A, Max 3.6 Watts, DC Input 5-6V 0.4Ah
Battery: Rechargeable Lithium Ion 3.7V 1A cell
7.8 x 0.71 x 2.6 in. (198 x 68 x 18 mm), 4.6 oz. (131g)
Temperature Range -4F to 131F (-20C to 55C)
11/09 $49, (1/09) $79

Find the Solio Hybrid Charger on Amazon.com
---
HYmini Powerbank Universal Charger/Adapter - 6W





Handheld, universal charger/adapter to recharge 5V digital gadgets
Harnesses wind power / solar power, conventional wall plug power
Charges cell phone, MP3 player, iPod, PDA, digital camera
Includes adapters for mobile phones,
or charge 5V handheld devices through USB 2.0 outlet
Moisture-proof but not water resistant; Turbine soft flexible PVC material
1200 mAh lithium ion polymer rechargeable battery power bank
5V adaptive 200~850mA output through USB 2.0.
Battery, has around 500 complete charge cycles
Fully charged, 1000mAh vs mobile phone around 0.4Ah to 0.7 Ah
Charge from wall plug through DC jack , fully charge battery in 4 hours
Also use as a wall plug charging adaptor
Charge from wind - supplemental, not full charge - 9 - 30 mph, max 40
Charge from solar - 0.7W Max capacity via DC input jack
LED night light, charge-in green indicator
MINIWIZ Sustainable Energy Dev.
HYmini $49, black, green, white
HYmini Deluxe $74 - plus miniSOLAR panel
miniSOLAR Panel $24 - Chain up to 4
Output current 140mA MAX, Output voltage 5V MAX
Recycled cardboard paper package
miniHANDCRANK generator $9

Find the HYmini Charger on Amazon.com
---
Single adapter, swappable tips

See also Peripherals and Accessories Gallery -- Portable power
---
Kensington - AbsolutePower - Laptop, Phone, Tablet Charger (6/11)
Smallest, lightest most powerful charger in class
Smart power technology senses and delivers amount of power needed to charge laptop
Two built-in USB power ports

2.1 Amp to charge tablets and phones (iPad & iPhone)
1 USB & 1 microUSB - microUSB to USB adapter included

Triple charge - 100 watts peak -

Simultaneously charge laptop and 2 USB devices
or 100-watt laptop, or 90W laptop and 10W mobile device

10 Smart tips compatible with laptops from HP, Compaq,
Dell, Acer, Toshiba, Lenovo, Samsung, Sony, Gateway, ASUS
Switch between 19 and 16 volts
Textured scratch-resistant finish, Detachable cord
4.3 x 2.75 x 0.73 in., 8 oz.
6/11 - $119.99 ($106)

Find the Kensington AbsolutePower Charger
on Amazon .com
---
Kensington - Wall and Car Charger for Mini and Micro USB Devices (09)
USB wall adapter
and USB car charger - small - 2" long x less than 1" diameter
Mini USB charging cable with micro USB adapter
AC Adapter In 100V-240V AC, 50/60Hz, 0.3A; Out 5V - 1000mA DC
Car Adapter Input: 10V-24V DC; Output: 5V - 700mA DC
Car chargers - from $9.99 -
PR 9/09 - http://us.kensington.com/html/17542.html
~ 2010 - $29.99

Find the Kensington USB Charger on Amazon
---
Kensington - 4-Port USB Charger for Mobile Devices (08)
Four USB power ports, charge up to four mobile devices simultaneously
Use with existing USB charging cable or Kensington USB Power Tips
Input: 100-240VACm, 50-60Hz, 0.3A Max
Output: 1-4 x USB, 5 VDC, 2.0A Max
Dimensions: 77 x 55 x 29 mm, 120 g
PR 9/08 - http://us.kensington.com/html/16300.html
$29.99 / $19 street

Find the Kensington 4-Port USB Charger on Amazon
---
Callpod Chargepod 6-way Charger (07)
Charges six gadgets simultaneously with a single power cord
Uses voltage regulator technology, interchangeable power adapters
Compatible with over a thousand mobile devices
Device-specific adapters for cell phones, Bluetooth headsets,
Music players, PDAs
Portable gaming systems, digital cameras
Mobile electronics that operate in 5-6 V range
Input charge power 6V DC - 3A, Output 500mA each port
2.75" W x 2.70" L x 0.72" H [69.85 x 68.60 x 18.30 mm], 1.12 oz [32g]
Green power LED, blue LEDs on each port (when adapter attached)
11/09 - $39, Bundle $79
08: Base unit $49 without adapters, Adapters $9.95
Bundle pack $99, CHPA-0002, with car charger + 6 popular adapters

Find the Callpod Chargepod on Amazon.com
---
Mobility Electronics iGo Power Adapters (06)
Chargers for small devices up to notebooks
Options for wall power, cars, and airplanes
Travel rated, from 110 volts to 230 volts and 50/60h, just need adapter plug
Dualpower accessory to simultaneously power two devices (bundled or $24 separately).
06 - From 8 watts for mobile phones and portable audio players (starting at $19)
to 70 watts (around $79)
to over 100 watts to charge high-end notebooks (from $119)
Swappable "iTips": mobile phones and handhelds/PDAs;
portable music and media players ( portable DVD players, gaming systems,
GPS systems, and satellite radios); digital cameras and camcorders;
notebooks and external hard drives
Typically $9.99, $14.99 for some iPods

Find Mobility Electronics iGo Power Adapters on Amazon.com
---
Blackstone International - MFUEL portable power adaptors
Charger Paks and Jacks for AC wall power, DC cars, and planes,
complete with adaptors and tips
Low power ~ $49 - $79 (i.e., 18 watts for cell phones, media players,
digital cameras, camcorders)
High power ~ $119 (i.e., 75 watts for notebooks)
Universal chargers ~ $199 - $249, simultaneous high and low power charging
(i.e., 100 to 120 watts)
World Jack adaptors for countries around the globe
Over 150 Hot Tips for cell phones to MP3 players to digital cameras to notebooks
MFuel Power Bank external battery packs with similar flexibility
portable electronics ($199 for up to 65 hours of additional cell phone time)
notebooks ($299 for 10 hours)
universal connectivity ($399, 12 hours notebooks, 100 hours cell phones)

Find Blackstone MFUEL portable power adaptors on Amazon

MFUEL World Pack 120
---
MDI - kwikSynCh / SynCh -- Charge through USB ( 07)
Malleable Devices Inc.
Charge and sync through standard USB, over 40 mTips adapters
Also can plug USB style mTips directly into USB ports on PC or Mac, or into any standard USB cable
MDI - kwikSynCh Dual Charger (11/06)
Charge and sync mobile gadgets from your laptop: Power and data
Dual USB outputs: charge/sync/connect one device, while charging another
Blue: Power + data, Red: Power only
Also charge from MDI Car/Travel adapters
06, 09 - $14.95
MDI - SynCh - Universal Sync Charger (12/05)
Charge/sync/connect one device, while charging another
Built-in retractable cable
In: USB A Male: Plugs into USB port on PC or Mac, or into Car and Wall adapters
Out: USB A Female: USB data / power, or use USB style mTips
and 2.5mm Power: fits some devices directly, or use Charge style mTips (= USB mTip MTU-SAM1)
(Charge mTip MTC-USB1 converts to USB power)
Charge from USB, Car/Boat/RV and Wall
06, 09 - $26.95
MDI - mTips Adapters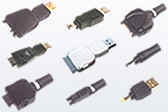 9V booster
USB mTips plug into any USB cable, or directly into USB port on PC or Mac
mTips: $6.95 - USB, iPod, cell phones, music players, cameras, PSP, etc.
New (8/07): Nintendo Game Boy, Samsung smartphones, HP PDAs,
USB Micro mTips for cellphones, headsets and other devices
Plus 6V and 9V Boosters to step up from 5V USB
MDI reports its adaptors are rated at 1A:
the USB spec for a PC is 0.5A, though most PCs can tolerate 1A or more through a single USB port
Charge mTips plug into any charger with 2.5mm center positive barrel connector
including models from Sprint, Kyocera and others
MDI - Power Adapters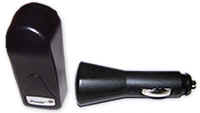 Car adapter, Single / Dual USB Wall adapters
Dual USB Wall Adaptor - 2A of power, slim design, collapsible plug, $14.95 (8/07)
Standard USB Wall Adapter, North American plug: $12.95
Standard USB Car Adapter : $12.95
iPod USB Car Adapter: $12.95
Interchangeable USB Wall Adapter: North American, UK and European: $16.95
---
---
Palm Touchstone Charging Dock
Magnets align phone in correct position for charging - 11/09 $69 bundle
Requires Palm Pre back cover for Touchstone charging dock, sold separately

See Palm Pre Preview
---
Powermat - Wireless Charging
Real time, wireless charging for portable electronic devices

Charge multiple devices on one Powermat without all the cords and adapters
Two part system: Pair thin mat with receivers that attach to device, Charge by placing devices on mat
Magnetic induction, shared magnetic field, aligns device, pairs with receiver
Data protocol / RFID handshake between mat and receiver, authentication, regulates power
No effect on other devices, hand touch

Charge multiple devices simultaneously - Snap to align properly at fixed spots on mat
Typically charges at same rate as device's own charger
Receivers built into device case, or use universal power discs to charge other devices
Mats currently for low-voltage devices like cell phones and other handheld devices, not laptops
Input Voltage: 100-240V AC, 50-60Hz Universal; Output Voltage 18VDC, Current 0.83A, Standby 0.011A
Adapter Power: 15 Watts
PR 1/09 - Launches - www.powermat.com/skin/frontend/powermat_1_3/default/docs/PM_PRESS_RELEASE.pdf
PR 6/09 - NeoCon - www.powermat.com/skin/frontend/powermat_1_3/default/docs/PM-NeoCon-pressrelease.pdf
Charge up to three devices at same time,
plus USB power port for legacy devices
Universal, international power supply with wrap-around cord
Includes Powercube Universal Receiver, 8 tips

Sits on mat, adapter wire for tips
Wire wraps around receiver; separate tip drawer
8 tips: miniUSB, microUSB, Apple iPod/iPhone,
Nintendo DS Lite, DSi, LG 1, Samsung 2, Sony PSP

Charging indicators: adjust sound volume, light brightness

Powermat Home & Office Mat - $99

12.25 x 4.5625 x 0.625 in.

Powermat Portable Mat - $99

Folds for compact storage, includes hard travel case
~ 12 x 3 3/4 x 0.6 in.

Dedicated Receivers

Apple iPhone / touch Receivers, iPod Dock - $39 (~ 11/09)
BlackBerry Battery Doors - Replace default battery door - $29
Nintendo DSi / DS Lite Backs - $29
Powercube Universal Receiver - $29, Extra Tips $6.49, $8.49

Find the PowerMat Home & Office Mat and
PowerMat Portable Mat on Amazon.com
Powermat - potential futures
Simultaneous charge low and high capacity devices, cell phones and laptops
Power management: Direct power to devices that need it most, turn off power when device is fully charged

Built-in integration: Receiver circuitry printed on ultra-thin tape, integrated directly within devices

Data transmission: Wirelessly send / sync data
---
Duracell MyGrid / Pure Energy Wildcharge Wire-Free Power
Wire-free power - Just place device on pad
Simultaneously charge multiple devices: cell phones, portable music players
Conduction, not induction - Physical contact, any orientation, higher efficiency, lower cost
Efficient and safe power transfer (~100% efficiency); Not electro magnetic, microwave, or other radiation
Other devices will not be damaged: hard drives, floppy drives, credit cards
Shuts down safely if metal object is placed on the pad, restart when removed
WildCharger Pad - Thin, flat, and flexible charging pad

Simultaneously charges up to five devices, Works with cell phones and portable music players
Place anywhere on the pad in any orientation, Conductive technology works on contact
8 x 6 in., up to 15 Watts

WildCharge Skins / Sleeves - adapters for specific devices (small nubs)
Duracell MyGrid (10/09)

Battery Charging Pad For Mobile Devices
MyGrid Kits for Apple, BlackBerry, Motorola, Nokia
Power Sleeves, Power Clip
Up to 5 devices (Output 15W max)
Power input: 100 - 240 VAC, 0.4 Amps, 50 – 60 Hz
8.5 x 6.75 x 0.75 in., 4.0 oz.
PR 8/09 - www.pginvestor.com/...
Cell Phone Starter Kit $89.99 (list $76)

Find the Duracell MyGrid on Amazon

Pure Energy Solutions - Wildcharge Wire-Free Power

WildCharger Pad - $49.99
WildCharge Skins - $34.99 - iPhone, iPod Touch, BlackBerry, Motorola RAZR V3
Universal Adapter - $39.99 - with one tip: microUSB, miniUSB, Nokia 2mm, Sony Ericsson
PowerDisc - $19.99 - Universal adapter, 8 PowerLinks tips
---
Powercaster - RF Power
RW wireless power: milliWatts over meters, Watts over centimeters and RF energy harvesting. In
1/08 - Sampling Powercaster and Powerharvester modules for OEM use
Dime-sized Powercaster transmitter circuit, with any plugged-in device
broadcasts FCC-approved low-power radio signal at a predetermined frequency
Smaller Powerharvester receiver circuit, embedded low-power device
harvests energy to recharge or even replace the device's battery.
One transmitter can wirelessly charge any number of devices within its effective range
Receivers can capture up to 70% of the radio signal's energy, convert to DC power